Badminton Scotland want funding 'common sense' from UK Sport review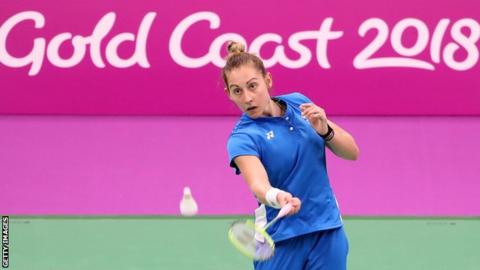 Badminton Scotland chief executive Anne Smillie hopes "global sports" will be recognised by a national consultation into how elite sport is funded.
UK Sport invests £100m of National Lottery and government money into high-performance sport each year.
But there have been recent cuts to certain sports, with Badminton Scotland losing almost £1.7m per year.
"I just hope that the complete review will see common sense come out of the other end," said Smillie.
"We need to inspire thousands of youngsters throughout the country and they need to be able to have access to sport.
"It's a nonsense that there's such huge amounts of money being spent on what I would consider to be less popular sports. A number of medals we seem to win are in sports that are perhaps not as popular globally and it's easier to pick up medals and I think this is why UK Sport target particular sports.
"Some sports, such as badminton, basketball, volleyball, these are global sports that are played all throughout the country and throughout the world but it has to take a back seat to say, less popular sports such as modern pentathlon. Not many of us have access to horses as well as fencing and shooting lessons.
"There needs to be targets. I think though when sports actually achieve their targets and then are told their total funding's being withdrawn, that just doesn't make sense.
"I'm not saying that we need to receive millions of pounds every year but just give us our fair cut of the cake and we will achieve the medal success that UK Sport is looking for."
UK Sport's medals-based, 'no-compromise' policy has been credited with the country's Olympic and Paralympic success over the past two decades.
They say the three-month consultation will allow the public, politicians and stakeholders to "help shape the future direction of elite sport funding and influence how it strategically invests in the next Olympic and Paralympic cycle from 2020-2024".
Badminton Scotland lost its appeal against UK Sport's funding cut decision last year.
"All the funding stopped so the athletes, Scottish athletes had to come back home and be reliant on the Scottish system to look after them," explained Smillie.
"Unfortunately, we don't have the funds to be paying out enormous sums on competition and personal allowances.
"Fortunately for us, we were not totally reliant on the UK funding. We have the financial support and professional support services from the [Sport Scotland Institute of Sport], which allowed our players to train in Scotland so the impact wasn't as fierce as it could've been.
"In the long term, if this is not sorted, yes it will have a major impact, a negative impact on the future of our sport."
Scotland's Kirsty Gilmour, who has won Commonwealth Games silver and bronze medals and two silvers at European Championships level, was one of those affected by the cuts and the 24-year-old has supplemented her income by playing in India's Premier Badminton League.
"It was financially worthwhile for Kirsty to go out there because she needs to earn a living and certainly we don't have the funds to enable her to pay her mortgage, for example," Smillie added.
"I really would like to think that this review presents an opportunity to better connect the sport's system from kids in school through to our inspirational medal winners.
"It's crippling for many other sports that don't enjoy the same support that we are getting from the government.
"If there's no performance pathway to Olympic success because there's no funding in place then the youngsters, the stars of tomorrow, what happens to them because many of the sports that are enjoying such funding are really outwith the reach of the majority of our young athletes?"