Spanish International: Kieran Merrilees loses out to Kai Schaefer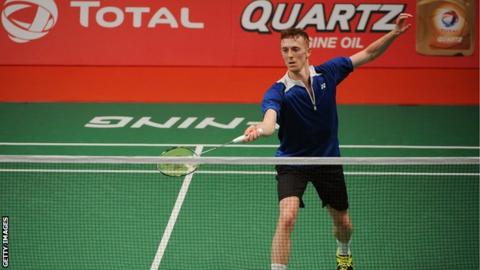 Kieran Merrilees lost out to Germany's Kai Schaefer in the second round of the Spanish International in Madrid, having earlier defeated India's Anand Pawar.
The Glaswegian seventh seed won 21-15 21-13 against Pawar, the two-time former Scottish Open champion, but lost 19-21 21-18 21-17 against Schaefer.
Fellow Scots Alexander Dunn and Adam Hall reached the last eight of the men's doubles without playing a match.
They won by walkover against Bulgaria's Peyo Boichinov and Ivan Panev.
That followed a first-round bye.
Their team-mates Martin Campbell and Patrick MacHugh were not so fortunate, though, as they went down 21-13 21-10 against Japan's Keiichiro Matsui and Yoshinori Takeuchi.
In the first round of the women's doubles, Scottish champions Julie MacPherson and Eleanor O'Donnell lost to England's Chloe Birch and Jess Pugh 21-15 21-18.