BBC Sport - All England Open: Adcocks lose badminton semi-final in dramatic fashion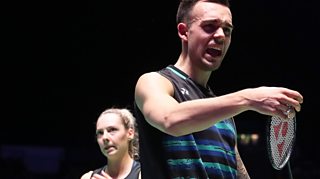 Adcocks lose semi-final in dramatic fashion
England's Gabby and Chris Adcock are match point away from reaching the All England Badminton final in Birmingham, only to lose to Chinese pair Kai Lu and Huang Yaqiong after the strings on Chris' racquet break.
WATCH MORE: Adcocks' comeback stuns Olympic winners
Watch live coverage of the All England Open on the BBC Sport website.
Available to UK users only.