Liz Cann: Jersey stars need more financial support to succeed
By Harry Davies
Kick Off reporter, BBC Radio Jersey
Last updated on .From the section Badminton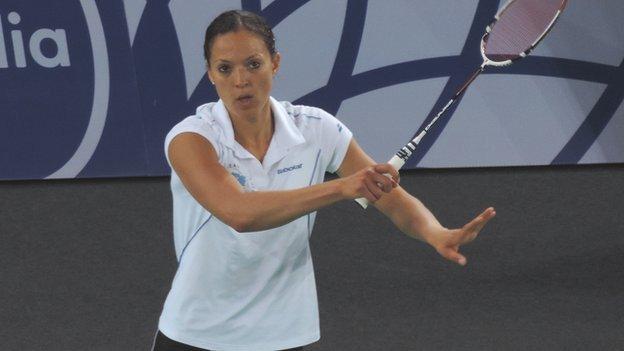 Jersey badminton player Liz Cann says that the island's athletes require more investment in their talents in order to be more competitive at national level.
The former England number one was the island's flag bearer at the Commonwealth Games closing ceremony.
She switched allegiances back to the island and went part-time.
"To be able to compete with the likes of England and other countries, who are full-time athletes, you need that financial support," said Cann.
Jersey badminton player Liz Cann
"If you want to compete at this level it's very difficult to work as well."
"It's expensive to go and play tournaments and I also had to work to make a living.
"If you want to compete at this level it's very difficult to work as well."
Cann, 35, was not at full match fitness for the Commonwealth Games and was
"It was hard to put in the same amount of training that I would have if I had been a full-time player," she said.
"If you want to stay within the island and train at the same level you need the right infrastructure, which also costs, and the right coaches."
Jersey remain without a Commonwealth Games medal since 1990.
The One Foundation charity provides support by contributing to the island's sporting infrastructure, as well as subsidising training expenses for athletes, that Cann suggests are essential for their success.
The organisation has put more than £800,000 into sport in Jersey, helping competitors such as thrower Zane Duquemin, allowing him to train locally as well as attending training camps in the UK.
"We will assist athletes who are looking to compete in competitions who may require equipment," One Foundation commercial director Katie Griffiths told BBC Radio Jersey.
"We have a strong private investor network, we've got corporate partnerships as well and we also fund raise.
"The establishment of the Jersey Sport Foundation will also assist with supporting athletes but they also need more investment so they can continue to provide things such as facilities."
The One Foundation works with Jersey sport associations to identify which athletes would benefit from the financial backing. The intention is to give athletes every opportunity to succeed on the national stage.