Jenny Wallwork retires after saying she was undervalued and ignored
Last updated on .From the section Badminton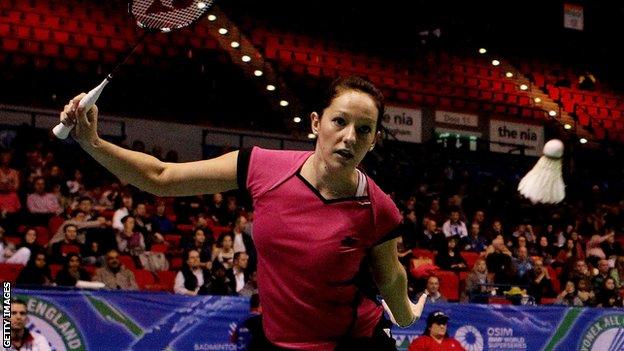 One of Britain's top badminton players has announced her retirement after saying she felt undervalued by the sport's governing body.
Jenny Wallwork, a mixed doubles specialist, cited a lack of confidence in the "insecure, untrusting and incapable leadership" of Badminton England (BE).
Wallwork claimed she was ignored and talked down to.
"It was a case of jumping off what felt like a sinking ship," she said.
Wallwork is one of the highest profile British players in the sport. The five-times national champion is a Commonwealth Games silver and bronze medallist as well as a European bronze medallist.
Wallwork made her decision when she was paired with an inexperienced new women's doubles partner when she wanted to focus on mixed doubles leading up to the 2016 Olympics in Rio.
"In the past we have had great leadership," she added in an interview with BBC Sport.
"We've been able to discuss with our coaches and performance directors the paths we want to take or who our partners might be.
"In the last few months I have had endless meetings and just felt I've got nowhere. I felt so undervalued in every single meeting."
The 26-year-old aimed a series of strong criticisms at performance director Jens Grill.
"There wasn't one positive thing actually said to me from the performance director," added Wallwork.
"I think the sport is being led by people who have a vision and unfortunately have no interest in what the athletes think. That's the biggest problem.
"The performance director doesn't know the players well, he doesn't know us individually.
"He's the one dictating the situations and the scenarios between partnerships and he knows nothing about us."
Badminton England responded by stating it was disappointed by the player's announcement.
"Jenny's decision has taken us by surprise and we are disappointed with the manner in which she has chosen to communicate it," it said in a statement.
"We had discussed Jenny's programme and how it should look in considerable depth with her in the last couple of months and thought we were moving forward positively."
Speaking about her decision to retire, Wallwork added: "It's been a complete rollercoaster of emotions.
"It's a sport I have loved for so long and I didn't want all my hard work just to slip away.
"But if you have no confidence in the programme you're given then there's no other option.
"You can play the local tournaments but ultimately Badminton England are the association that enter you into the big tournaments."