Imogen Bankier hits out at badminton skirt rule
Last updated on .From the section Badminton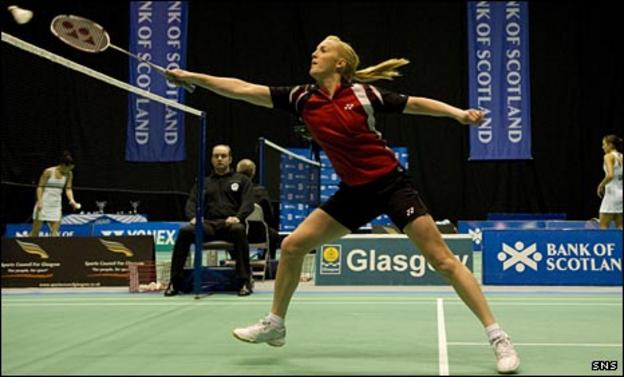 Scottish badminton player Imogen Bankier is maintaining her fight against new rules forcing female players to wear skirts or dresses.
The Badminton World Federation has hit back at critics and said it is not designed to glamorise the sport.
But Commonwealth Games doubles quarter-finalist Bankier stated: "It is a silly rule and it is unnecessary.
"I don't think women in sport should be told what they can and can't wear when men aren't told the same thing."
The BWF said it is a drive to improve the presentation of players at major tournaments.
And it added that it does not want to discriminate against religious beliefs and has pointed out that shorts or tracksuit bottoms can still be worn under skirts.
Nevertheless, the world governing body delayed the implementation of the rules by a month until 1 June in order to clarify their reasoning.
"In badminton, we have always had a choice of wearing a skirt or shorts and I don't see why that has to change," said Glasgow-based Bankier, who is ranked 20th in world mixed doubles with partner Chris Adcock.
"I understand what they are trying to do - make it more appealing to spectators and the media.
"But I don't think women wearing skirts is going to make it more aesthetically pleasing.
"If people want to see women in skirts they will go elsewhere - they won't go to watch badminton.
"Apparently, there will be a fine for every time you walk on court in shorts - so maybe they are just trying to make a bit of money.
"I have an idea for how I am going to combat it, but I'll keep it a secret for now."
Deputy president Paisan Rangsikitpho has defended the rule change, believing it is important for the image of the game.
"It has never been the intention of the BWF to portray women as sexual objects and nor is that what we are doing," he said.
"We need to be able to differentiate the women's game and the ruling is part of a larger campaign to enhance the presentation profile of the sport.
"This is to help attract a wider target group amongst both younger and older people - and amongst both women and men - where an aesthetic and stylish presentation of the players is certainly an important factor."