Belfast International: Reid beaten in 200m after earlier 100m win as Mageean secures 800m victory
Last updated on .From the section Athletics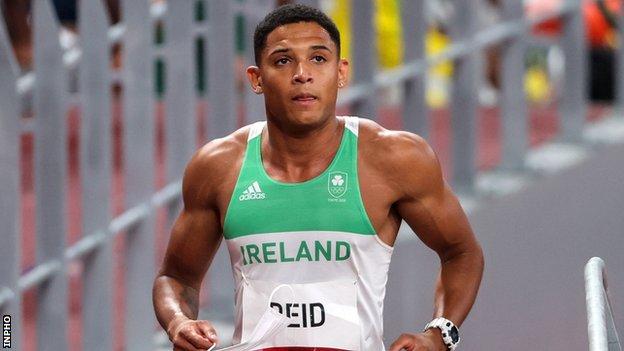 Leon Reid had to settle for third in the 200m at the Belfast International after his earlier 100m win as Ciara Mageean secured an 800m victory.
Reid was racing on Irish soil for the first time since being cleared to continue his international career.
In February, the Olympian was found guilty of allowing his flat in Bristol to be used to produce crack cocaine and received a suspended sentence.
Reid won the 100m in 10.62 seconds but could only clock 21.25 in the 200m.
That left him 0.20 seconds behind his Irish Tokyo Olympics team-mate Marcus Lawler, with Englishman Jordan Watson-Brown also 0.05 ahead of Reid as he produced a personal best.
Earlier, Reid had held off Watson-Brown by 0.07 to win the 100m which had a wind reading of -1.1.
Reid's 200m time was 0.98 seconds outside his personal best set in 2018, which was the year he won Commonwealth Games bronze medal in Australia and also reached the 200m final at the European Championships.
'A terrible situation to be put into'
Despite losing in his specialist 200m, Reid, 27, insisted he wasn't downhearted by his afternoon.
"It wasn't my best performance but I was literally walking on one leg yesterday with my Achilles so to finish today is really good," he told BBC Sport Northern Ireland.
Reid's said the court case caused him to miss three months of training over the winter and spring which he is now attempting to catch up on.
The Irish sprinter was given a suspended sentence and 220 hours unpaid work at Bristol Crown Court in February but was found not guilty of concealing criminal property and of three firearms offences, which related to items seized from his flat.
During a war-weather training stint in South Africa in early 2020, Reid had sub-let the property to fellow athlete, Romaine Hyman, who was found guilty of 18 offences and sentenced to 26 years in prison at the court hearing, with two other men given jail terms.
"The three months that I missed and those are the important three months. I'm trying to chase back all that time that I've missed so I'm slowly working away at it," added Reid.
"I just want to get fit really. I want to start enjoying my running again.
"It was a terrible situation I was put in and then to miss all the training, have all of that, lose sponsors.
"I just held on to funding…..it plays a lot with your mind a lot so it's good to get out here to race and put all that behind me really," added Reid, who will race in Greece on Thursday before competing in London next weekend.
After losing at the same Mary Peters Track two weeks ago despite going under two minutes for the 800m for only the second time as she lost her Irish record to an inspired Louise Shanahan, Mageean got back to winning ways over the same distance by clocking 2:01.34 to finish exactly a second ahead of British Olympic 1500m runner Katie Snowden.
As the bell was reached in 59.92 seconds, another sub-two minute run by Mageean looked possible but the pace slowed between 400m and 600m before the Portaferry runner moved into the lead with just over 200m left.
The 30-year-old's early-season performances have also included a sold fourth place behind winner Laura Muir in the 1500m at last weekend's Diamond League meeting in Birmingham and the county Down woman says she feels "in a really good place".
The twice European medallist is now guided by former Great Britain athlete Helen Clitheroe after previous coach Steve Vernon was appointed to a UK Athletics post in March and Mageean says she is "really loving" working with her new mentor.
"Helen continued racing until she was 40, representing England at Commonwealth Games and getting GB vests so if there's ever an athlete to take me into my 30s, it's Helen as my coach," added the Portaferry woman.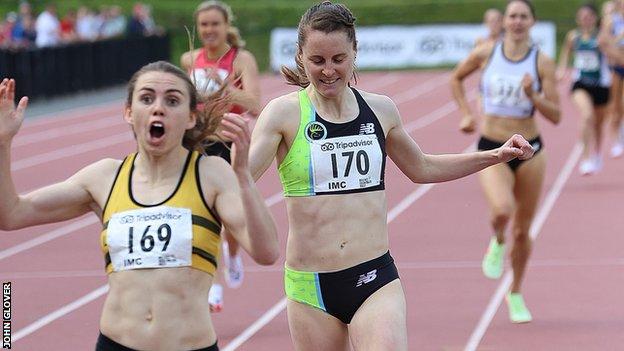 Mageean added that her summer championship plans are almost certain to be focused on the Commonwealth Games and the European Championships, with her highly likely to skip the World Championships in Oregon in July.
"I'm definitely swaying towards focusing on the Commonwealth Games and the Europeans purely because, three major champs are just going to be too much to be able to fit in. And the fact the World Championships are in Oregon, it's far away as well."
The meeting's full title was the Mary Peters 50th Gold Medal Anniversary Belfast International which commemorated her Pentathlon triumph at the Munich Olympics in 1972.
Lady Mary was an enthusiastic presence at the meeting as she presented the winners with their trophies during the medal ceremonies and mingled happily with all present.