UK Anti-Doping criticises UK Athletics over handling of Salazar report

By Dan Roan
BBC sports editor
Last updated on .From the section Athletics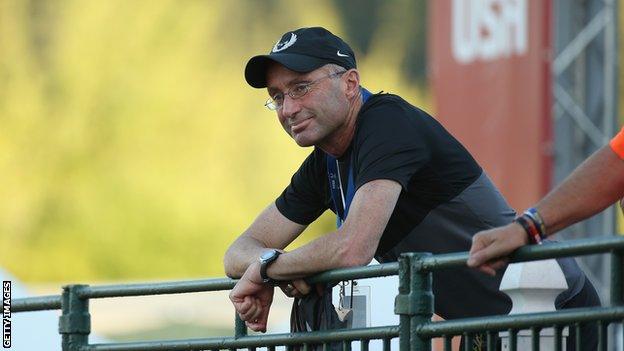 UK Anti-Doping (Ukad) has criticised UK Athletics (UKA) for failing to comply with repeated requests to hand over a 2015 internal review into the way it handled its relationship with disgraced running coach Alberto Salazar.
The row broke out 24 hours after UKA published an independent report which found the governing body took "reasonable" decisions on Salazar, but said its implementation "could have been better".
"We have repeatedly requested that UKA share this... with us in its entirety as there could be information included that is of interest to us" said Ukad chief executive Nicole Sapstead.
In response, a UKA spokesperson said, "Any implication... that UKA is being obstructive in this matter or in any way failing in its duties, is wholly wrong and inaccurate."
Salazar was appointed as a consultant to UKA's endurance programme in 2013 after he masterminded Mo Farah's 5,000m and 10,000m gold medals at the London 2012 Olympics.
In light of claims against Salazar in a 2015 BBC Panorama programme, an internal performance oversight committee (POC) was set up, which concluded there was "no concern" about letting Farah continue to be coached by the American.
According to last week's independent report, the POC reviewed "Farah's medical and supplement records and related data."
Salazar was banned from the sport for four years in October 2019 after being found guilty of doping violations following an investigation by the US Anti-Doping Agency (Usada) and a two-year court battle.
There is no suggestion of any wrongdoing by Farah, who has never been accused of breaking anti-doping rules.
Last year a review was commissioned into UKA's handling of the scandal, led by sports law barrister John Mehrzad. It was published on Friday.
"We note that UKA has taken the decision to publish the Executive Summary of the original internal review that was conducted in 2015..." said Sapstead.
"As the John Mehrzad QC independent review states, only an edited summary of this report has been shown to us.
"We remind UKA that they are bound by the National Anti-Doping Policy.
"We now call again on UKA to handover this Review in full, including the associated supporting reports and documents."
In response, UKA spokesperson said: "As recently as yesterday afternoon, UKA's lawyers received correspondence from UKAD's in-house legal team setting out a framework and reassurances of confidentiality to enable UKA to share documents containing sensitive information within the 2015 POC review, which UKA have been advised needs specific consents.
"This was in response to a letter dated 3 March 2020 from UKA lawyers to UKAD.
"UKA and UKAD have been addressing this cooperatively, to enable access to relevant documents in compliance with legal duties.
"No reason was received from UKAD as to why there had been a change from yesterday to less than 24 hours later, or what that was.
"Any implication by anyone that UKA is being obstructive in this matter or in any way failing in its duties, is wholly wrong and inaccurate."
Mehrzad's report into how UKA handled decisions about its relationship Salazar found the board changed its stance on severing ties with him.
This came after some members of the board claimed they felt subjected to "in effect blackmail" by UKA's performance team, who suggested their jobs would become untenable were Farah to be forced to split from his coach.