Mark Dry: Hammer thrower banned for four years after Ukad appeal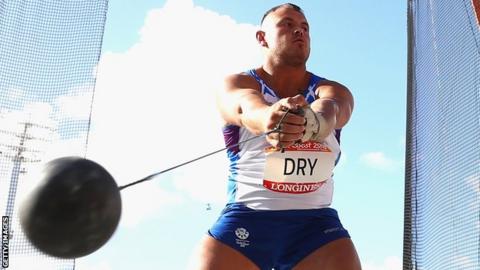 Hammer thrower Mark Dry says his four-year ban after UK Anti-Doping won its appeal against a decision to clear him "offends against fairness and justice".
The 31-year-old double Commonwealth medallist had admitted wrongfully claiming he had gone fishing on the day he missed a drugs test.
An appeal tribunal said the Scot "lied" to "subvert the anti-doping process".
"Heartbroken" Dry has no further right of appeal but says he will "continue fighting this unfair saga".
In a Twitter response to Thursday's announcement, he said the initial tribunal, in dismissing the charges against him, had "accepted that a four-year ban would be grossly disproportionate and unfair".
"I simply cannot understand how a different panel would arrive at a four-year ban conclusion, given that the Court of Arbitration for Sport clearly indicate that the misinformation I provided does not amount to tampering," he said.
Dry, who has already served five months of his ban, was initially charged in May, having given false information after breaking the rule on 15 October, 2018 whereby athletes must let the anti-doping authorities know exactly where they will be on any given day.
He told the panel he had "panicked" as he did not want "a strike against my fully clean record".
Dry, then his partner, Leah Govier, both wrote to Ukad saying he had been fishing despite a neighbour at his Shepshed address having told inspectors he had travelled to Scotland.
The Scot points out that athletes are allowed three such failures within a 12-month period and that, had he not written to Ukad making the false claim, no action would have been taken against him.
The Sport Resolutions Panel found in Dry's favour in October, ruling there had been no subversion of the doping control process even though he did provide false information, with the appeal heard in December.
Ukad deputy director of legal and regulatory affairs Stacey Cross said: "This case is a very clear example that athletes must conduct themselves with honesty during the anti-doping process and what is at risk if they don't.
"It is Ukad's role to uphold the anti-doping rules, which apply to all athletes, and there are very strict sanctions for anyone who deliberately interferes with or tries to obstruct the anti-doping process."
Dry stresses that he has "been a lifelong fighter of doping in sport".
"I cooperated fully from the start and have admitted my fault, but the punishment here does not even remotely fit the crime," he added.
"How can they equate me with someone who injects steroids or someone who constantly lies and tries to obstruct authorities?
"Other athletes lie publicly, they change their stories and they are ok to continue with the sport. Why are they persecuting me in this manner? I would like to receive some answers to these questions."