Anyika Onuora: Olympic bronze medallist retires from athletics
By Miriam Walker-Khan
BBC Sport
Last updated on .From the section Athletics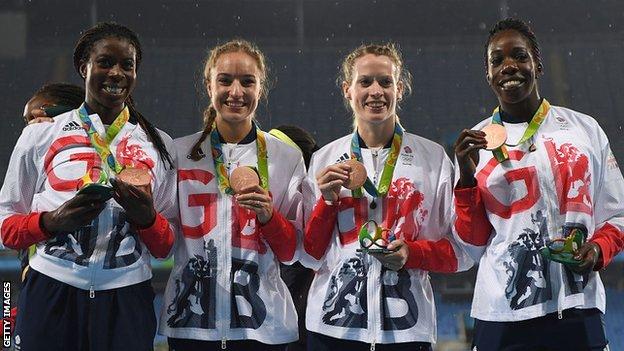 British Olympic bronze medallist Anyika Onuora has said she "wasn't mentally there" to challenge at Tokyo 2020 after retiring from athletics.
Onuora, 35, won 4x400m bronze at Rio 2016 having won the same medal at the World Championships the previous year.
She is also won European gold in the 4x100m and 4x400m relays and finishes her career as a three-time Commonwealth Games medallist.
"It was a tough decision, there were a couple of tears," said Onuora.
"But I'm walking away healthy - I didn't have my career taken away from me."
Speaking to BBC Sport, Onuora, who first competed for Great Britain 18 years ago, added: "Physically, I can do any workout. But mentally, I'm not where I want to be so I just want to move onto the next chapter of my life.
"Tokyo was always the plan, especially having a successful Rio Olympics, but unfortunately I wasn't mentally there."
Onuora contracted malaria while on a family in Nigeria in October 2015 which threatened her Olympic dream.
But just 10 months later the Liverpudlian won bronze at Rio 2016.
"I never thought I could walk away from not only recovering from malaria, but also being physically back to my best, but then also winning an Olympic medal," she added.
"Among the many other medals I won, being one of only a handful of British athletes to complete 'the full set' - becoming a European, Commonwealth, world and Olympic medallist - makes me immensely proud.
"I'm forever grateful for all the people who allowed me to fulfil a big dream that a young black girl from Liverpool was able to achieve.
"Every setback and low I experienced was worth it to get to those special moments that will always hold dear to me."