Alberto Salazar: Mo Farah's former coach banned for four years for doping violations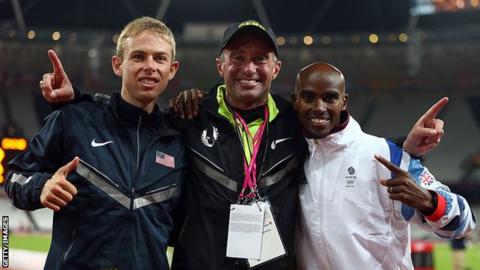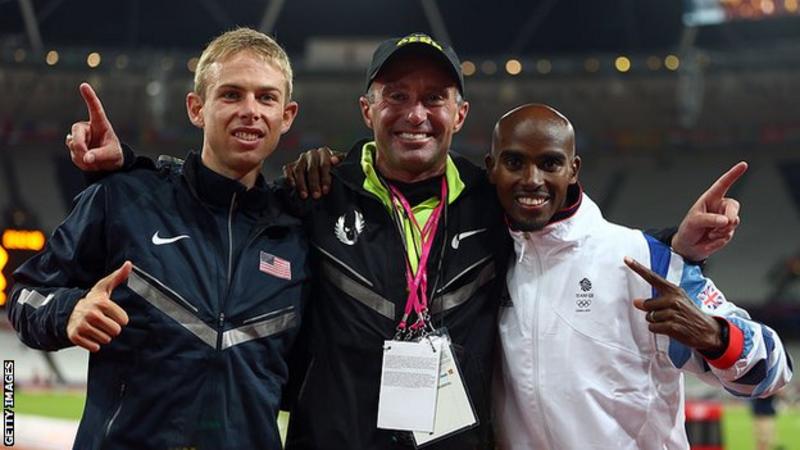 Alberto Salazar - Mo Farah's former athletics coach - has been banned from the sport for four years after being found guilty of doping violations.
Salazar runs the Nike Oregon Project - home to British four-time Olympic champion Farah from 2011 until 2017.
The decision follows a four-year investigation by the US Anti-Doping Agency (Usada) and a two-year court battle behind closed doors.
American Salazar said he was "shocked" by the outcome and would appeal.
"The Oregon Project has never and will never permit doping," the 61-year-old added. "I will appeal and look forward to this unfair and protracted process reaching the conclusion I know to be true."
Dr Jeffrey Brown, a Nike-paid endocrinologist who treated many of Salazar's athletes, has also been banned for four years.
Farah split with Salazar in 2017, which the BBC can reveal was the same year the coach was first charged by Usada.
The 36-year-old, also a six-time world champion, said: "I'm relieved that Usada has, after four years, completed their investigation into Alberto Salazar.
"I left the Nike Oregon Project in 2017 but, as I've always said, I have no tolerance for anyone who breaks the rules or crosses a line. I'm glad there has finally been a conclusion."
The Briton has never failed a drugs test and has always strongly denied breaking any rules.
The investigation began after a BBC Panorama programme in 2015.
An independent panel found Salazar and Brown possessed and trafficked a banned performance-enhancing substance and administered or attempted to administer a prohibited method to multiple track and field athletes.
It added that Salazar "tampered and/or attempted to tamper with the doping control process".
The panel also said Salazar and Brown "communicated repeatedly about the athletes of the Nike Oregon Project's (NOP) performance and medical conditions, exchanging information without any apparent formal authorisation by the athletes at the NOP or distinction between Dr Brown's role as an athlete's physician and NOP consultant.
"[Salazar] and Brown shared information with the aim of improving the athletes' performance via medical intervention, with a particular interest in increasing testosterone levels."
Usada chief executive Travis Tygart praised athletes for having the "courage to speak out and ultimately expose the truth".
"While acting in connection with the Nike Oregon Project, Mr Salazar and Dr Brown demonstrated that winning was more important than the health and wellbeing of the athletes they were sworn to protect," a statement added.
'Usada statement misleading' - Salazar
Doping charges against Salazar and Dr Brown were brought by Usada in June 2017. The pair contested the charges, supported by Nike-paid lawyers, and the case went to the American Arbitration Association.
The Panorama programme, a joint investigation with the American website ProPublica, revealed allegations of doping and unethical practices at the US training base in Beaverton, Oregon in 2015.
UK Athletics (UKA), the sport's UK governing body, conducted its own review into the claims, and gave Farah the green light to continue working with Cuban-born Salazar.
Farah announced he was leaving Salazar in October 2017, the same year he was knighted, but denied his decision was to do with the doping claims.
During his time at the NOP, 5,000m and 10,000m runner Farah won six world titles and four Olympic gold medals.
Farah quit running track races in 2017, deciding to concentrate on the marathon, but earlier this year said he might return to the track for the 2020 Olympics in Tokyo.
Salazar, who coaches several athletes at the World Athletics Championships in Doha but has had his accreditation revoked, added: "Throughout this six-year investigation my athletes and I have endured unjust, unethical and highly damaging treatment from Usada.
"This is demonstrated by the misleading statement released by Travis Tygart stating that we put winning ahead of athlete safety. This is completely false and contrary to the findings of the arbitrators, who even wrote about the care I took in complying with the world anti-doping code.
"I have always ensured the World Anti-Doping Agency code is strictly followed."
'Very grim reading' - the reaction
Nike said the decision had "nothing to do with administering banned substances to any Oregon Project athlete".
"As the panel noted, they were struck by the amount of care Alberto took to ensure he was complying with the World Anti-Doping code," it said.
"We support Alberto in his decision to appeal and wish him the full measure of due process that the rules require. Nike does not condone the use of banned substances in any manner."
UK Athletics said it "acknowledged the announcement made by Usada" and "will now review the arbitration decision in full prior to making any further comment".
It added: "It should be noted that at all times UK Athletics fully cooperated with both Usada and UK Anti-doping throughout the investigations.
"Furthermore, the Performance Oversight Committee's own investigation in 2015 was restricted to the interaction of the Nike Oregon Project with Mo Farah and not an anti-doping investigation. Such investigations can and should only be undertaken by the relevant anti-doping authorities.
"UK Athletics is 100% committed to clean athletics."
British former heptathlete Denise Lewis, who won gold at the Sydney Olympics in 2000, has described the news as "very disappointing", adding that is casts "a shadow over the World Athletics Championships".
She told BBC Breakfast: "I looked at the Usada report and it makes for very grim reading.
"If he is guilty of these allegations, then I really think it's a very sad indictment and sad that a coach who is so reputable and has had the trust of so many athletes over the years has gone down this route.
"On the positive, it is good news that coaches are finally being sanctioned and banned from the sport, even though it's only four years."