Russia's ban for doping upheld months before World Championships in Doha
Last updated on .From the section Athletics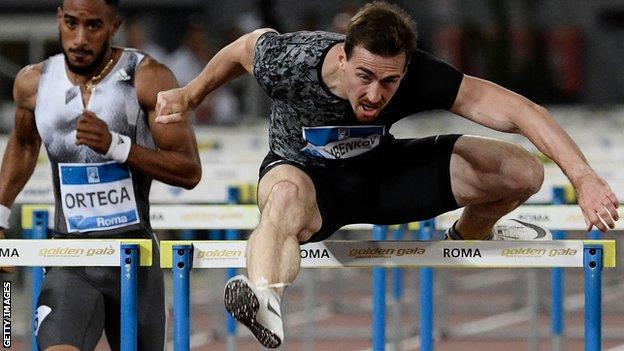 Russian athletes may miss this year's World Championships in Doha after the International Association of Athletics Federations voted to leave its doping suspension in place.
The IAAF took the decision at a council meeting in Monaco - the 11th time it has voted to maintain the ban.
Athletes have not been able to compete for Russia since November 2015 after state-sponsored doping was uncovered.
The World Championships will take place from 28 September to 6 October.
Under the terms of the IAAF ban, Russian athletes cannot compete under their own flag.
However, athletes who have met the IAAF doping review board's drug-testing criteria can compete under a neutral flag.
So far, Russia has endorsed 286 applications for 'neutral athlete' status to date - of which 66 have been granted and 22 rejected by the IAAF.
The next vote is likely to be taken at an IAAF Council meeting on 23 September - just five days before the World Championships.
Why was Russia not reinstated?
Athletics chiefs were asked not to reinstate Russia by Rune Andersen, who heads an IAAF taskforce set up to manage the country's reintegration.
He told delegates he found it "extremely frustrating" to read of new allegations in recent months which he said raised questions about Russia's commitment to a zero-tolerance approach to doping.
"The taskforce noted recent allegations that banned coaches and a banned doctor continue to work with Russian athletes," he said.
"Perhaps it will require an intervention from President Putin himself to help them get the message that things must change," Andersen added.
In a six-page report presented to the meeting, Andersen also pointed out Russia "acknowledges that more needs to be done to implement and strengthen the many various reforms it has introduced since its suspension".
He said officials has been able to test international athletes "without any improper interference" - which has not always been the case.
He also pointed out seven athletes had been "found to have violated anti-doping rules" in 2019 to date.
The IAAF has previously said it would only reinstate Russia on two key conditions: firstly, once it had access to samples and data from the Moscow anti-doping laboratory - which was only accessed by World Anti-Doping Agency (Wada) officials in January; and secondly, when Russia had reimbursed the taskforce's costs.
Andersen said the large amount of data obtained - amounting to "several hundred gigabytes" - was still being analysed by Wada therefore that condition had not been met.
However he said Russia had now reimbursed costs of $3.2m (£2.5m).
"Given that progress, however, it is extremely frustrating for the taskforce, and (we expect) for council too, that there are new doubts," he added.
The latest decision to uphold the ban puts the IAAF at odds with other sporting bodies such as the Wada and the International Olympic Committee, who have revoked their own suspensions of Russia.
In February 2018, Russia's Olympic membership was restored after its suspension from the 2018 Pyeongchang Winter Games, while Wada lifted its three-year ban in September the same year.
Meanwhile, the IAAF Council also voted to change the IAAF's name to World Athletics as part of a rebranding exercise to modernise the organisation. The new name will come into effect from October.