Anyika Onuora: Olympic medallist on body image confidence issues as a young athlete
Last updated on .From the section Athletics
British Olympic medallist Anyika Onuora says she used to wear baggy clothes to hide her body because people "felt entitled to touch it".
The 34-year-old, who won 4x400m relay bronze at Rio 2016, struggled with body image confidence as a youngster having gone to a predominantly white school.
As an athlete, she was often told she was "fat" because her body was naturally bigger than many peers.
"At times you would feel objectified," said Onuora, who has Nigerian parents.
"I had an adult body at such a young age - I had hips, quite a big backside, and I didn't know what to do with it or how to feel about it."
Onuora - who started her athletics career as a 100m and 200m sprinter before moving to the longer distance - was speaking on BBC Radio 5 Live's The Sista Collective podcast.
She said she used to avoid wearing crop tops and short shorts while training because "no-one had the same body", and chose to wear black clothes to avoid drawing attention to herself.
"When I was younger, I used to wear a big coat to cover my whole hips and backside, and my friends and family always used to ask me why I was covering up," said the 2015 World Championship bronze medallist.
"It was because you have moments where people feel the need to just grab it, they feel entitled to touch because they are curious and it's not something they see."
She added: "When you're around a bunch of white girls and their bodies look the same, and then there is yours, it messes with your self-esteem so much."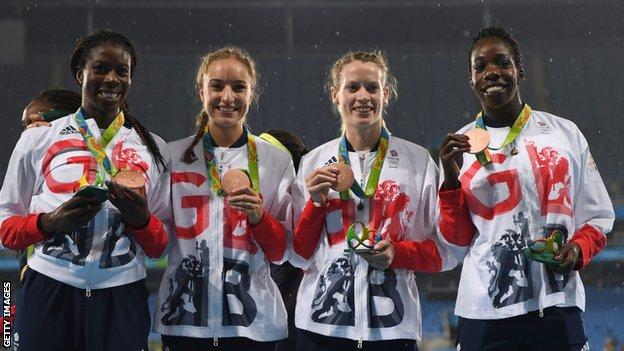 Onuora, a two-time European champion, claims she was told to lose weight by athletics bosses despite her muscular figure, and says she was often compared with the now-retired Christine Ohuruogu even though, she says, they are "not really the same size".
She now wants to use her experiences to help instil body confidence in young girls.
"I remember being told a couple of times that I was fat, which was tough to go through at such a young age when you want to perform your best," she said.
"But being told by the people at the top that maybe you need to lose weight, in reality because of what they perceive that someone who is small and petite is going to run fast, you're not their ideal fit.
"I go into schools and do public speaking, and I have no issues with that because I know, as a black woman, I have been in the exact same position where you're told 'your body features aren't good enough', 'you're too fat', or 'you need to put your body parts away'.
"Even as elite female athletes, we can be the best in the world but it doesn't mean we don't have the same problems.
"I have seen the growth in myself over the years. Now, I love my body and I love what I do, I work hard for this, this is my job, my body is my engine."
Download the full episode of the Sista Collective's 'Body image, BMI and Brazilian butt lifts' podcast here