European Cross Country: US-born Newcastle athlete Ryan Forsyth fourth in Tilburg U23 race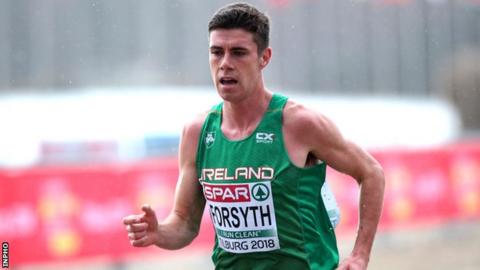 US-born Newcastle athlete Ryan Forsyth ran a superb race to finish fourth for Ireland in the men's under-23 race at the European Cross Country Championships in Tilburg.
The University of Colorado athlete was pipped for bronze by France's Hugo Hay after being prominent throughout.
Forsyth, 22, clocked 13:41.19 for 5000m on the track in April and won the Irish title over the distance in July.
Sarah Healy was ninth in the women's junior race after suffering a fall.
Forsyth finished 11th in the NCAA Cross Country Championships in the US last month and was tipped to challenge for a top-10 place in the Netherlands on his Ireland debut.
However, the US collegiate star clearly didn't set his sights that low as he led the field on lap one and was in third place midway through the final lap in a race run in muddy underfoot conditions.
But Hay managed to overhaul the Irish hopeful in the closing half lap to take third as his French team-mate Jimmy Gressier retained the title ahead of Germany's Eritrean-born Samuel Fitwi.
Forsyth's time of 23 minutes and 49 seconds left him 12 seconds behind the winner.
Healy falls while well placed
In the women's junior event, double European track under-18 champion Healy fell just before halfway while well placed as she eventually finished 17 seconds behind Italy's winner Nadia Battocletti.
Healy's tumble also dashed Irish team hopes as she finished just behind eighth-placed team-mate Emma O'Brien.
The Irish led the teams stats after lap one was but eventually were sixth.
Stephanie Cotter, who had been prominent early on, dropped back to 25th spot and with only three to score this year, that left Ireland three points behind bronze medal winners Turkey.
Amelia Quirk was also brought down in Healy's fall but her fifth place helped Britain clinch the women's under-20 gold ahead of hosts, the Netherlands.
Battocletti clocked 13 minutes and 46 seconds which left her a second ahead of Switzerland's Delia Sclabas with Turkey's Inci Kalkan taking the bronze.
Mageean struggles to 43rd in muddy conditions
Ciara Mageean, who won her first Irish senior cross county title two weeks ago, found the muddy underfoot conditions on the tight, twisting course not to her liking as she finished 43rd in the women's senior race as Kenyan-born Turkish athlete Yasemin Can clinched a third successive title.
Portaferry runner Mageean's time of 28 minutes and eight seconds left her two minutes and three seconds behind the winner.
Mageean's fellow Rio Olympics 3,000m steeplechaser Sara Treacy was the leading Irishwoman in 26th spot - 22 seconds ahead of the county Down woman.
Michelle Finn finished 51st with Letterkenny athlete Annmarie McGlynn 57th, Armagh AC's Fionnuala Ross 62nd and Newcastle's Kerry O'Flaherty in 64th spot.
Can held off Switzerland's European Championship silver medallist Fabienne Schlumpf by one second to take the gold with Norway's Karoline Bjerkeli Grovdal earning a fourth successive bronze in the event.
Dutch woman Susan Krumins' fourth spot helped the Netherlands pip Britain for the team gold despite the seventh, eighth and ninth-place scoring performances by Charlotte Arter, Melissa Courtney and Pippa Woolven.
When Fionnuala Britton was in her pomp in the event, Ireland's senior women won team gold in 2012 plus bronze in 2014 and 2015 but they finished in a distant 11th place on this occasion.
Tobin seventh in senior men's race
Clonmel athlete Sean Tobin ran a fine race to finish 10th in the senior men's race.
While eventual winner, Norway's Filip Ingebrigtsen broke away from the field in a group that included other medallists Belgium's Isaac Kimeli and Turkey's Aras Kaya, Tobin remained prominent throughout the race.
The county Tipperary man moved up from 12th at the start of the final lap to achieve a top-10 finish - 33 seconds behind the winner - which was an improvement of five places from last year.
Irish champion Kevin Dooney was a further 31 seconds back in 26th with Kevin Maunsell 34th, Kevin Batt 55th, Mick Clohisey 67th and Damian Landers, a late replacement for Belfast man Stephen Scullion, in 78th spot.
Eilish Flanagan was the top Irish finisher in the women's under-23 race in an impressive 16th spot.
Ireland's quartet of Paul Robinson, John Travers, Siofra Cleirigh Buttner and Claire Tarplee finished ninth in the second running of the mixed relay event.