Jon Albon: $1m prize could be won by British obstacle course racer
Last updated on .From the section Athletics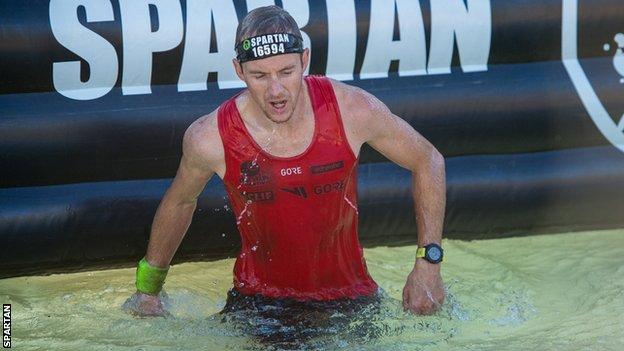 Jon Albon never planned on becoming a full-time athlete. It just kind of happened.
The 29-year-old from Essex had already won some prize money from obstacle course racing when he was struggling for work in 2014.
That's when his Norwegian wife Henriette asked, "Why don't you just run?" So he did.
Despite having never had a coach, he went on to win the Obstacle Course Racing (OCR) World Championship - five years in a row - and this year became world champion in skyrunning, which involves mountain running above 2,000 metres on steep inclines.
And what started out as a bit of fun could this weekend earn Albon a prize of $1m (£780,000).
All he has to do is win the Spartan Ultra World Championship - a "nasty" 24-hour race in Iceland - while also completing 100 miles, climbing over 7,000 metres and tackling over 300 obstacles, all in sub-zero temperatures.
A tough introduction
Albon did not even start running until he was 20, when he had a go at Tough Guy in Wolverhampton, the event that inspired the OCR scene that has boomed over the last 10 years.
The races cover varied terrain with natural and man-made obstacles, such as sandbag carries, monkey bars, rope climbs and mud crawls.
"Tough Guy is held in January so it's a really cold race - you have to break the ice on the water," Albon told BBC Sport.
"It sounded like a fun challenge and not only did I manage to get around but I really enjoyed it.
"You do have to keep in mind that you'll enjoy it in hindsight, that you're achieving something, so it really is a very psychological challenge as well as a physical one.
"The mental aspect is huge because a lot of these obstacles are built to test you mentally - so you'll go to heights, you'll get cold, you'll be put in dark spaces - and you need to overcome those things."
New life in Norway
Video survives of a wet, muddy, exhausted Albon staggering about with 'jelly legs' during that Tough Guy race, something all OCR newcomers can relate to.
Yet just two years later he was a regular in the more competitive OCR events, winning virtually every race he entered, having stopped watching as much television and started running to and from work.
Then he quit his job as a building surveyor on the London Underground to move with his wife to Bergen, where they "enjoy a simple lifestyle". They no longer own a TV and Jon can ski and run at altitude.
"I found a love for training and pushing myself," he said. "Then in the short period of having no job in Norway I took my training to the next level.
"I've just ridden the wave, had fun and not tried to shape my career too much. This way everything's happened naturally."
Million dollar man?
It may have happened by accident rather than design but Albon does not have to worry about going back to a day job any time soon.
Racing as a pair, he and Canadian Ryan Atkins shared the $100,000 prize at World's Toughest Mudder in 2016 after running 105 miles in 24 hours.
This year Spartan upped the stakes. Big time. They offered $1m to anyone who could win their three World Championship events - the classic (13 miles), the Trifecta (five, 10 and 19 miles in one weekend) and the Ultra.
Albon won the first two and will now race against Atkins. Starting at midday local time on Saturday, they will do continuous laps of a six-mile course, and the winner of last year's event completed just 71 miles. Albon will need to go beyond 100 miles to qualify for the $1m bonus.
"This race in particular is very miserable," said Albon. "I'm not confident at all - it's a hell of a challenge.
"The weather is one of the main obstacles. Iceland at this time of year is nasty, and rain or snow play a massive part. I'm going to have to get my clothing right."
But the man without a plan does have something in mind if he does manage to land the $1m jackpot.
"I'm just trying to imagine running under the Northern Lights and having as much fun as possible," he added. "But if I was to win, a cabin in the mountains would be pretty nice."