Omoregie and Greene given Welsh funding in new scheme
Last updated on .From the section Athletics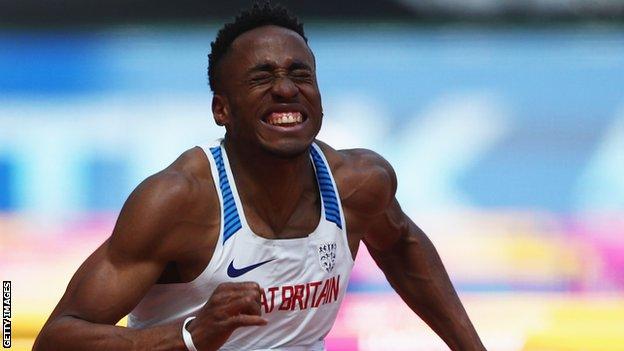 Sprint hurdler David Omoregie and former world champion Dai Greene are included on Welsh Athletics' new Commonwealth Games support programme.
Omoregie, race walker Bethan Davies, middle distance runner Charlotte Arter, steeplechaser Ieuan Thomas and hammer thrower Osian Jones will receive Welsh Athletics' top level of funding.
They are among 38 athletes awarded funding for 2018-19 with an eye on the 2022 Commonwealth Games.
Omoregie recently lost his GB funding.
Greene has been given "associate funding", a new short-term support mechanism for experienced athletes who may not be targeting the 2022 Games in Birmingham.
Omoregie, 23, was previously on the British Athletics Olympic Podium Potential programme.
"The thing in Wales is that we'll always have small talent pools," said Welsh Athletics national coach, Chris Jones.
"So we've got to be smart about how we invest in that and nurture those athletes coming through.
"There's a consistent number of Welsh athletes now making Great Britain teams so that's a healthy place to be."
Former world, European and Commonwealth champion 400-metres hurdler Greene won the British title in 2018 after five years of injury problems.
But he failed to compete at both the Commonwealth Games and European Championships as injury again forced him to withdraw at the 11th hour.
Sprinter Sam Gordon - the fastest man in Wales since Christian Malcolm - is included on the second-tier CWG Potential programme.
"I've had a few years where it's been tough with injuries so it's been a fight to get back on funding," said Gordon.
"So to know they feel I'm making progress again is rewarding.
"[Getting to the 2022 Commonwealth Games] would be top of my athletics achievements.
"I look up to Christian Malcolm and I want to follow in his footsteps."
Runners Dewi Griffiths and Melissa Courtney had already been awarded British Athletics funding for the upcoming season.
Welsh Athletics Commonwealth Games support programme
CWG podium: Bethan Davies, Charlotte Arter, David Omoregie, Ieuan Thomas, Osian Jones.
Associate athletes: Ben Gregory, Brett Morse, Caryl Jones, Dai Greene, Seren Bundy-Davies.
CWG potential: Adele Nicoll, Curtis Matthews, Heather Lewis, Jac Palmer, Jenny Nesbitt, Jonathan Hopkins, Josh Griffiths, Natasha Cockram, Owen Smith, Rebecca Chapman, Sam Gordon, Stevie Stockton.
Talent development: Ben Thomas, Bethan Rees, Bethany Moule, Cari Hughes, Hannah Brier, Jay Morse, Jeremiah Azu (status to be confirmed), Joe Brier, Kiara Frizelle, Kristian Jones, Lauren Evans, Lauren Williams, Naomi Reid, Oliver Barbaressi, Osaze Aghedo, Sarah Omoregie, Tom Hewson.