Chris Bennett: 'I bottled it & don't deserve funding' - hammer thrower on death, depression & determination

By Heather Dewar
BBC Scotland
Last updated on .From the section Athletics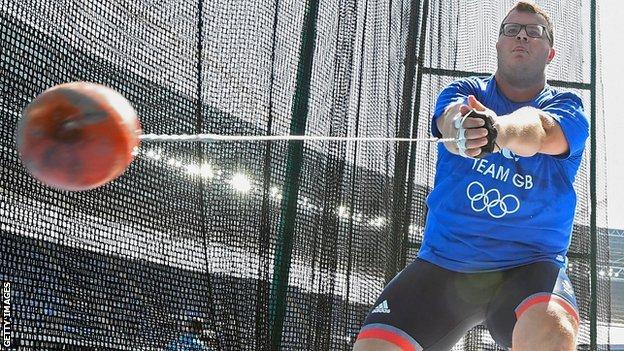 "I was crying in Brisbane Airport, thinking 'I really don't want to be here anymore'. I had a flight home the next day with the team, but I wanted to go that night."
In April, Scottish hammer thrower Chris Bennett had a Commonwealth Games to forget. He travelled to the Gold Coast as one of the favourites, but could only finish 10th place.
In his own words, he "bottled it". And not for the first time. The 28-year-old was last in the Glasgow 2014 final, too, and failed to make the final of the Rio Olympics two years later.
"As a sportsman you want to be remembered, you want to leave a legacy," he says. "But in the grand scheme of things, I've achieved nothing."
Now, Bennett has lost his place on British Athletics' World Class Programme and consequently, his funding, after failing to meet targets.
Here, he tells BBC Sport Scotland why he "doesn't deserve funding", about being depressed, and why he might be playing bowls at the age of 74 in search of a Commonwealth Games medal.
'I told them it would be a crime to keep me on'
Bennett was set the target of winning a medal at this year's Commonwealth Games and making it to the final of the European Championship, but fell short in both competitions. He was on the lowest level of funding from British Athletics, receiving approximately £7,000 a year.
It's not a great deal of cash but it's not nice to have it taken away from you, especially just before Christmas. A lot people think sport is a glamorous lifestyle and you're on megabucks, but we're not, we're scraping to get by. We're not like football or rugby players, we get the bare minimum.
I now have to find the cash to continue - so that's maybe another 15 or 20 hours a week that I've got to work. It will take its toll eventually.
I have to be honest and admit that I didn't meet those targets. As an athlete you have to take responsibility and, if you're not performing, you don't deserve the money in my eyes.
I actually said to the guys at British Athletics, 'it'll be an absolute crime if you keep me on'. I had high hopes of getting a medal at the Commonwealths but I bottled it and I'm not afraid of admitting that.
I had a knee injury and they offered me an operation, but I still had to compete. I was on Tramadol trying to get myself through the season.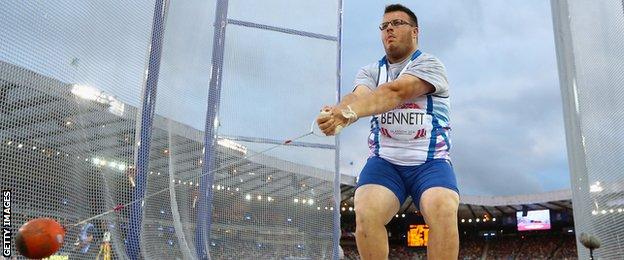 'I felt like I didn't belong at the Olympics'
Bennett believes not enough consideration is paid to issues occurring behind the scenes in sport. In the two years leading up to the Glasgow Commonwealth Games, both his father and his coach passed away, events which led to him "going off the rails a wee bit" and affected his mental health.
I lost my dad in 2012 really unexpectedly. He had always been ill. He was a lift engineer and they gave him the wrong ladder and he fell on his head, which caused Petit Mal epilepsy (also called 'absence seizures'). He went in for a routine prostate exam and the medication they gave him counteracted his seizure medication.
Then I went into training in April 2013 and two weeks later my coach died of liver cancer. He'd been there for two weeks and hadn't missed a session.
Before I went to Australia, I had this massive feeling that I was going to wake up one day and my mum wouldn't be there. It sounds bad for a guy at 28 to say that but when you've only got one parent left, that's a really hard thing to deal with.
I was at rock bottom, I saw a psychologist a lot to just get my feelings and thoughts out there. It's okay to talk. At times I was depressed.
The Olympics was the best and the worst time ever for me. The worst side of it was that I felt so outside of my comfort zone. I was stuck in a small room with all the coaching staff and I remember thinking "I just don't want to be here at all". I didn't feel worthy of being there, I didn't feel part of it, I didn't feel part of the team.
'I'm not going to retire until I've done it on a big stage'
Despite the disappointment of losing his funding, Bennett believes it could actually turn into a positive, giving him the "kick up the backside that I needed". He is in a much better place than he was previously and is determined to be a success. He can now look back and joke about the low points of his career.
You have to see the lighter side of it. I can say "I finished 12th in Glasgow, I finished 10th in the Gold Coast, and that means I'll finish eighth in Birmingham in 2022. I'll keep going and eventually I'll be playing bowls when I'm 74 and winning in the Commonwealth Games.
People don't expect anything of me anymore. If I was a selector looking at my record, I'd say "this guy is a bottle-job and doesn't deserve it". That's the fire in my belly that I need to prove people wrong. It sounds weird but I'm glad they've taken me off the programme because it's going to push me on to bigger and better things.
It's now about getting myself in the best physical and mental shape possible going into Birmingham. I'm in a good place now. I'm going to do it unfunded through pure grit and determination. If someone tells me I can't do something, I do it. I will literally do anything I can to prove people wrong.
People have been telling me I can't do it for years and one day I'm just going to do it and do it on a big stage. And I'm not going to retire until I've done it.