Beth Dobbin, Jemma Reekie & Josh Kerr added to British Athletics funding programme
Last updated on .From the section Athletics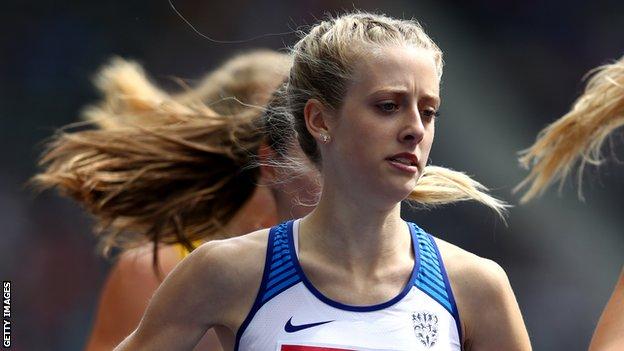 Scottish runners Beth Dobbin, Jemma Reekie and Josh Kerr have been added to British Athletics' World Class Programme for the 2018-19 season.
British 200m champion Dobbin, 24, will be funded as part of the relay squad, while middle-distance runner Reekie, 20, and 1500m specialist Kerr, 21, are considered 'Olympic Podium Potential'.
Laura Muir, Callum Hawkins and Lynsey Sharp retain Olympic Podium funding.
But hammer thrower Chris Bennett has lost his place on the programme.
Stephen Maguire, Head of Performance and Coaching with Scottish Athletics, believes the latest list is a "very good representation" of the strength of Scottish athletics on a UK-wide programme.
"The numbers are very consistent with where we have been in the past few years - in fact, a bit up on the past couple of years," he said.
"There is a new tranche of Scots coming on the programme and the very name of it as 'World Class Programme' tells you the levels these athletes and coaches are operating at.
"Selectors are having a look at these athletes and believe they can deliver on a world stage. There's no doubt in my mind that, as I've said before, Scottish athletes and coaches can be world class."
Scots on British Athletics funding:
Olympic Podium: Callum Hawkins (Kilbarchan), Laura Muir (Dundee Hawkhill), Lynsey Sharp (Edinburgh)
Paralympic Podium: Jo Butterfield (Forth Valley Flyers), Libby Clegg (Charnwood), Samantha Kinghorn (Red Star), Maria Lyle (East Lothian), Stef Reid (Charnwood)
Olympic Podium Potential: Andrew Butchart (Central), Josh Kerr (Edinburgh), Eilish McColgan (Dundee Hawkhill), Jemma Reekie (Kilbarchan), Jake Wightman (Edinburgh)
Paralympic Podium Potential: Derek Rae (Fife)
Olympic Relays: Zoey Clark (Thames Valley), Beth Dobbin (Edinburgh), Eilidh Doyle (Pitreavie)