Emma Mitchell: Northern Ireland athlete will make her marathon debut in London
Last updated on .From the section Athletics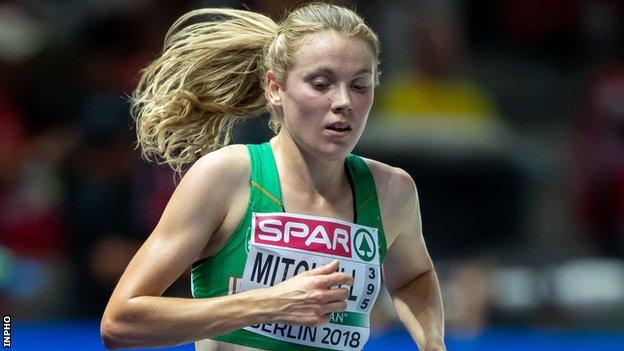 Northern Ireland's top female distance runner Emma Mitchell will make her marathon debut in London next April.
Banbridge woman Mitchell competed on the track at this year's Commonwealth Games and European Championships.
However, the 25-year-old is focusing her 2020 Tokyo Olympic Games ambitions on the marathon.
Mitchell clocked an impressive 74 minutes and 38 seconds on her half marathon debut at the Great North Run in September.
That left her as the top British and Irish women's finisher in the Newcastle event.
Next of Mitchell's decision to make her marathon debut in London emerged after she signed a sponsorship deal with Nike.
The county Down woman will hope to achieve the Olympic marathon standard in London before reverting to summer and autumn action on the track where major events will include the European Team Championships First League meeting and the World Championships in Doha.
The Doha championships take place in late September and early October in the Qatari capital.
Mitchell improved her own Northern Ireland 10,000m record to 32:49.91 as she finished a creditable 15th at the Commonwealth Games in April and she also holds the Northern Ireland 5,000m record.