European Games 2019: Dynamic New Athletics event introduced to tournament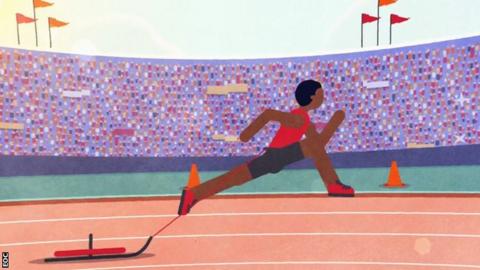 A parachute dash, shot put toss, sled run, medicine ball sprint and a 'hunt' finale.
No, it's not a new sports game show but an elite mixed-gender European athletics tournament called Dynamic New Athletics (DNA).
It is due to be held in June 2019 in Minsk, Belarus, as part of the European Games and will incorporate traditional athletics track and field disciplines, but with a twist.
Organisers the European Athletics and the European Olympic Committees (EOC) hope to appeal to younger sports fans aged between 15 and 34.
Baku hosted the inaugural European Games in 2015, which spanned 20 sports including athletics. And although Great Britain competed in other events in Azerbaijan, they did not send an athletics contingent.
How will it work?
Up to 30 nations, each with 17 athletes and six reserves, will take part in the 10-discipline knockout tournament, with 33 medals to be won, including gold, silver and bronze for individual athletes and for the best team overall.
DNA takes place as part of the European Games between 21 and 30 June, with four competition days featuring two hours of competition each.
What are the events?
Track'athlon - a mixed athletics assault course with sled run, shot put toss, standing long jump, water jump and a medicine ball run for men in lap one, with a parachute run replacing the medicine ball for the women in lap two.
Track and field - athletes compete individually in the high jump, long jump, 110m hurdles, 100m sprint, javelin and as a team in the 4x400 mixed relay.
The Hunt - a distance medley relay (men's 800m, women's 600m, men's 400 and women's 200m). Team start times are staggered depending on their results in the previous nine events. The first team to cross the finish line wins DNA 2019.
Marcel Wakim, from European Athletics, says the younger age demographic is "walking by" its "common athletics house".
However, former British heptathlete Kelly Sotherton said the new format will not "engage new fans".
"The sport needs innovation not transformation," the Olympic bronze medallist posted on Twitter.
Libor Varhanik, the European Athletics Council member said: "Let's be clear - we are proud of traditional athletics - we don't want to change our sport at all, we only want to showcase it in an innovative new way, trying to be more dynamic and more interactive.
"All the research showed us there is huge potential so it is now upon us to be brave and take the chance."
International Association of Athletics Federations President Seb Coe has branded the event as "innovative and thoughtful".
"I like it a lot. It embraces the team ethic," the former Olympic champion added.