European Championships 2018: Ireland's Alex Wright 10th in 20km walk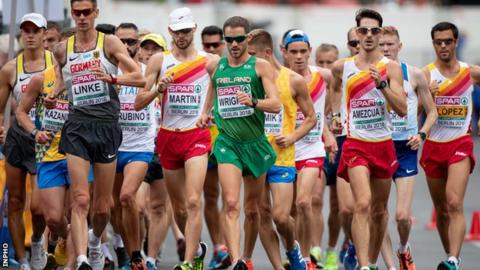 Ireland's Alex Wright finished 10th in the 20km walk at the European Championships after being in contention for much of the race.
Wright's finishing time of one hour, 22 minutes and 18 second left him a minute and 36 seconds behind Spain's winner Alvaro Martin.
The 27-year-old was in the leading group for more than half distance.
However, the threat of a disqualification after two warning hindered Wright's hopes.
A third yellow card would have meant automatic disqualification for the Ireland team member.
"I had to play it safe in the end because I had two warnings but I'm happy with my performance and it's my best championships for Ireland," said Wright.
Wright set his personal best of 1:21:17 in Portugal last year.
The English-born walker previously represented Britain in international competition before switching allegiance to Ireland in 2015.
Wright's team-mate Cian McManamon finished 21st in his major championship debut.
Spain's Martin finished six seconds ahead of compatriot Diego Garcia Carrera with Russian Vasiliy Mizinov a further two seconds back in third place.
Britain's Tom Bosworth was 47 seconds ahead of Wright in seventh place.