European Championships: Ireland's Leon Reid through to 200m final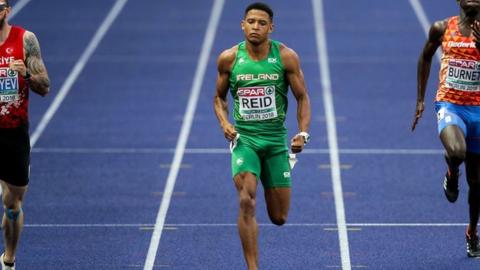 Leon Reid put on an impressive display to secure his spot in the 200m final at the European Championships in Berlin.
Ireland's Reid ran 20.38 to finish just 0.05 seconds behind Turkey's world champion Ramil Guliyev in the first semi-final on Wednesday night.
It was a notably composed display from an athlete making his Irish debut, having only been cleared by the IAAF to represent the country of his mother's birth last week
The 200m final is on Thursday night.
Reid's effort in Berlin was just eleven hundredths of a second off his personal best, which he set on the way to finishing third at last month's British Championships.
"It means everything. When I put the green vest on it's like putting on a super suit," Reid told RTÉ.
"I don't want to take it off right now but we'll get ready and go again tomorrow, even faster."
The Bath-born sprinter, along with the likes of Guliyev, Volko and British duo Adam Gemili and Nethaneel Mitchell-Blake, did not have to run in the first round because of his ranking.
Mitchell in action in women's 10,000m
Reid's Commonwealth Games team-mate Emma Mitchell finished 18th in the 10,000m final amid extremely humid conditions in Berlin.
The Banbridge woman recorded a time of 34:08.61, considerably slower than her personal best and Northern Ireland record of 32:49.91 which came at the Commonwealth Games in Gold Coast.
In other athletics news, Northern Ireland athletes Ben Reynolds and Laura Graham have pulled out of their events in Berlin.
110m hurdler Reynolds will miss Thursday's first-round heats because of a lower back problem while an Achilles injury will prevent Graham from competing in Sunday's women's marathon.
McSharry unable to reach 50m breaststroke final
Sligo swimmer Mona McSharry did not qualify for the women's 50m breaststroke final in Glasgow as a time of 31.45 seconds saw her finish sixth in the first semi-final.
McSharry's earlier qualifying time of 31.09 had suggested that she may be in contention for a final berth however she was unable to make the top eight in a strong field.
Cookstown man Calum Bain and his Irish team-mate Robbie Powell both exited in the 50m freestyle with Brendan Hyland bowing out of the 100m butterfly.
Bain clocked 23.11 to finish eighth in a high quality heat with championship debutant Powell timed at 23.35 in his qualifier.
Hyland, who set a new Irish 200m butterfly record earlier in the championships, finished seventh in his 100m heat in 53.37.
Also in the water, Irish diver Tanya Watson, who is only 16, finished an impressive seventh in the women's 10-metre final on her senior championship debut for Ireland.
Irish pair Michael Hoey and Neil O'Briain lost 2&1 to Italy in their Group B four-ball at Gleneagles. The same duo take on Great Britain's Connor Syme and Liam Johnston on Thursday.
In cycling, a puncture in her final 300 metres saw Ballymena woman Eileen Burns lose in the region of 40 seconds as finished 21st in the women's time trial - two places and three seconds behind her Ireland team-mate Kelly Murphy.
Fearing that her disc back wheel would completely disintegrate, Burns slowed dramatically in the closing metres after being the first competitor out on the 32.3km course.
In the men's time trial, last year's European silver medallist Ryan Mullen was 13 seconds away from a bronze as he finished a creditable sixth as team-mate Eddie Dunbar finished 28th.