European Championships: Leon Reid and Ireland waiting on IAAF transfer ruling
Last updated on .From the section Athletics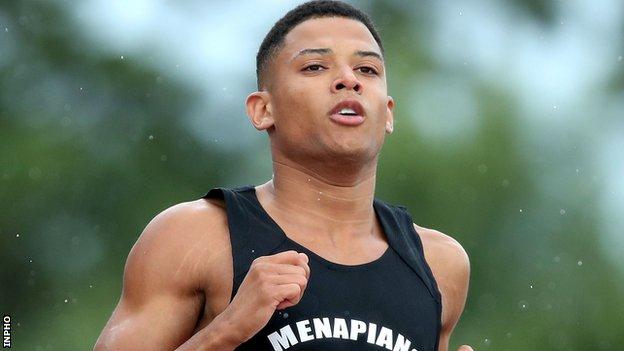 Sprinter Leon Reid is still waiting to hear whether he is going to be allowed to represent Ireland at next week's European Championships in Berlin.
As of Wednesday afternoon, Athletics Ireland had received no word on the progress of Reid's international transfer application to the IAAF.
However, an Irish Times report said Bath-born Reid's prospects of competing appeared to be fading.
Reid, 24, has been provisionally chosen by Ireland pending the IAAF's ruling.
The athlete's transfer will have to be accepted and processed by 14:30 BST on Sunday for him to compete in Berlin.
European Athletics has provisionally accepted his entry but the sprinter's participation in Berlin will only be confirmed if his transfer application is accepted and processed at least three hours before the Championships' technical meeting, which takes place on Sunday at 17:30 BST in the German capital.
Reid won European medals at junior and under-23 level for Britain and in April clinched Northern Ireland's first Commonwealth Games athletics medal since 1990 when he earned a 200m bronze.
Last Friday, the IAAF announced new rules which saw the ending of the total bar on international transfers, which had been in place for more than a year.
While the Bath-based athlete's mother was a Belfast woman, the Irish Times report said the IAAF's new rules mean athletes seeking international transfers must prove residency to the extent that they live for "at least 75% of the time" in the country they wish to represent.
Reid, who was in care for nearly all his youth, has strong family connections in Ireland both through his birth and adopted families but has never been an Irish resident.
The Irish Times report also said the new IAAF regulations suggest athletes will only be able to represent their new countries three years after making their transfer application. Reid began the process of applying to represent Ireland in June 2016.
IAAF president Lord Coe's comments on the transfer issue following last week's IAAF Council meeting in Buenos Aires appeared to boost Reid's prospects of representing Ireland in Berlin.
With the European Champions imminent and other area championships also taking place around the globe, the IAAF president said attempts would be made to "quickly process" outstanding transfer applications stuck in the system.
However, Lord Coe also said "no athlete should assume they will be cleared under these (new) rules automatically".
Reid will hope the fact that his application was made before these new rules were drafted could be in his favour but this remains to be seen.