Athletics World Cup: Beth Dobbin & Lorraine Ugen named in GB team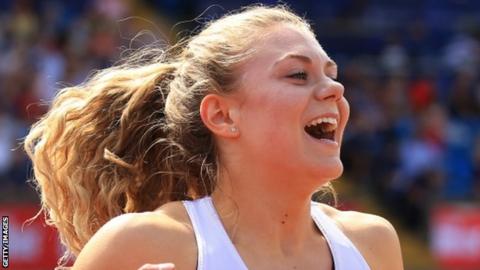 Sprinter Beth Dobbin and long jumper Lorraine Ugen will spearhead Britain's team at the Athletics World Cup at the London Stadium on 14-15 July.
Dobbin, who will run the 200m, and Ugen are among 21 British champions from last weekend selected for the inaugural edition of the eight-nation event.
High jumper Morgan Lake and hammer thrower Sophie Hitchon are also named.
World Indoor 60m hurdles gold medallist Andrew Pozzi will also compete at the 2012 Olympics venue.
Commonwealth hammer gold medallist Nick Miller and Wales' former world 400m hurdles champion Dai Greene also won selection in winning their events at the British Championships last weekend.
But the likes of 100m winners Reece Prescod and Dina Asher-Smith, fellow sprinters Zharnel Hughes and Adam Gemili and middle-distance star Laura Muir will all be missing.
UK Athletics chief executive Niels de Vos believes the event "will be a success", despite clashing with the Wimbledon finals, and football's World Cup final on Sunday, 15 July.
"It's the first time it'll be done - the Ryder Cup and Rugby World Cup have come an enormous distance and this can do likewise over the next 10, 20 years," he said.
"I don't think there's much of a clash (with Wimbledon or the football World Cup) with the audience who are going to buy tickets, and there's no television clash at all.
"Those (athletes) that aren't there we always knew weren't going to be there. We only announced the event in February and four or five had already signed contracts to do Diamond Leagues that weekend.
"People sometimes are uncomfortable with the new, and look for the weakness, but there's so much to be pleased about."
Five athletes will make their senior British debuts, including Scottish record holder Dobbin, who smashed her own personal best in Birmingham to make her the fastest Briton over 200m this summer.
"It has been a crazy season so far for me but it feels great to be handed my senior British debut," she said.
"If you had asked me at the start of the season if I would be in this position, I would have probably said no but I knew if I started running well I could start to achieve what I have done."
Other newcomers include fellow Scot Jemma Reekie, the European junior 1500m champion, European Under-23 100m champion Ojie Edoburun, and European junior triple jump bronze medallist Naomi Ogbeta.
The British team will compete against the United States, South Africa, Poland, France, China, Germany and Jamaica.
British team for Athletics World Cup
Men:
100m Ojie Edoburun (Shaftesbury Barnet; coach Steve Fudge); 200m Delano Williams (Enfield & Haringey; Steven Francis); 400m Rabah Yousif (Newham & Essex Beagles; Carol Williams); 800m Elliot Giles (Birchfield Harriers; Jon Bigg); 1500m TBC; 110m hurdles Andrew Pozzi (Stratford-upon-Avon; Benke Blomkvist); 400m hurdles Dai Greene (Swansea; Benke Blomkvist); High jump Chris Baker (Sale Harriers; Graham Ravenscroft); Pole vault Charlie Myers (Middlesbrough; Chris Boundy); Long jump Dan Bramble (Shaftesbury Barnet; Frank Attoh); Triple jump Nathan Douglas (Oxford City; Aston Moore); Shot put Scott Lincoln (City of York; Paul Wilson); Discus Brett Morse (Cardiff; Ryan Spencer Jones); Hammer Nick Miller (Border; Tore Gustafsson); Javelin James Whiteaker (Blackheath & Bromley; Nigel Whiteaker); 4x100m TBC; 4x400m TBC;
Women:
100m Daryll Neita (Shaftesbury Barnet; Jonas Dodoo); 200m Beth Dobbin (Edinburgh; Leon Baptiste); 400m Anyika Onuora (Liverpool; Rana Reider); 800m Adelle Tracey (Guildford & Godalming; Craig Winrow); 1500m Jemma Reekie (Kilbarchan; Andy Young); 100m hurdles: Megan Marrs (Windsor, Slouth, Eton & Hounslow; Jerzy Maciukiewicz); 400m hurdles Meghan Beesley (Birchfield Harriers; Michael Baker); High jump Morgan Lake (Windsor, Slough, Eton & Hounslow; Fuzz Caan); Pole vault Holly Bradshaw (Blackburn; Scott Simpson); Long jump Lorraine Ugen (Thames Valley; Shawn Jackson); Triple Jump Naomi Ogbeta (Trafford; Tom Cullen); Shot put Amelia Strickler (Thames Valley; Zane Duquemin); Discus Jade Lally (Shaftesbury Barnet; Zane Duquemin); Hammer Sophie Hitchon (Blackburn; Tore Gustafsson); Javelin Laura Whittingham (Sale Harriers; Michael McNeill); 4x100m TBC; 4x400m TBC.