Beth Dobbin eyes medals after sprinting into GB athletics limelight
By Clive Lindsay
BBC Sport Scotland
Last updated on .From the section Athletics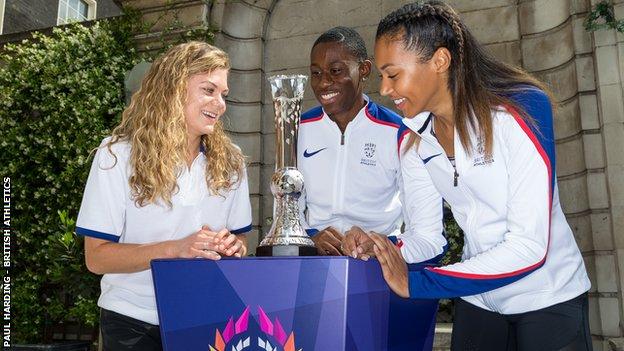 Beth Dobbin has gone from journeywoman sprinter to British 200m champion and selection for the inaugural Athletics World Cup despite still working two jobs to make ends meet and admitting she struggles to get a good night's sleep as a result.
Now the Loughborough-based Scot believes she can build on her debut in a Great Britain vest - at the age of 24 - and eventually challenge the likes of team-mate and former European champion Dina Asher-Smith.
"I definitely feel like I'm starting to close the gap," she told BBC Scotland. "That's why the trials meant so much at the weekend as she wasn't there and it was a great opportunity to become British champion this year.
"But I am improving at a quick rate and I'm making huge improvements and, if I do the same next year, I will be producing similar times to Dina.
"I don't feel a million miles away from her like I always have felt and hopefully I can keep improving."
Dobbin's win in Birmingham was the third time that she has set a new Scottish record in the month since first breaking the mark established by Sandra Whittaker 34 years ago at the Los Angeles Olympics.
Yet it is only a few months ago that she missed out on selection for the Commonwealth Games.
Not being able to wear the Saltire in Australia's Gold Coast was particularly tough for the daughter of former Celtic, Doncaster Rovers, Barnsley and Grimsby Town midfielder Jim Dobbin considering she showed her allegiance by twice rejecting the chance to run for England as a junior.
"I felt quite hard done by and it really upset me - I cried a lot about it," the Edinburgh AC runner admits.
"I was mortified, but it just gave me that determination and hunger that it will never happen again.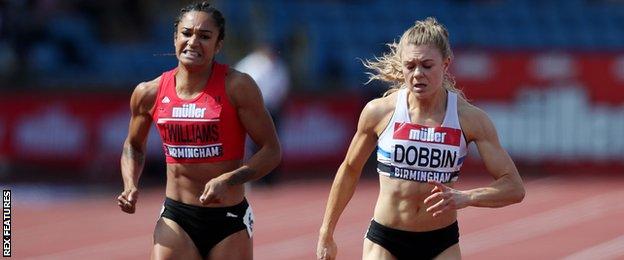 "And I think that, because it was such a small margin, it really got to me and, at every training session, it's been in the back of my mind - I thought about it every day to never let this happen again.
"It is funny how things have turned around."
Becoming British champion not only means that Dobbin will represent GB at the London Stadium on 14-15 July but also at the European Championships in Berlin in August.
"It's an amazing feeling because obviously it's my first GB vest, aged 24," she said. "To see my name there on the list is something I've dreamed of for ages.
"It means so much. Because I've been working for it for about eight years now, I've been trying to get a GB vest, I'm just so proud that I never gave up."
Another personal best is the least of her ambitions for the event where she will face opponents from China, France, Germany, Jamaica, Poland, South Africa and the United States.
"Its one run - just one blast and it's in a very quick stadium," she says. "The Olympic Stadium is always producing personal bests.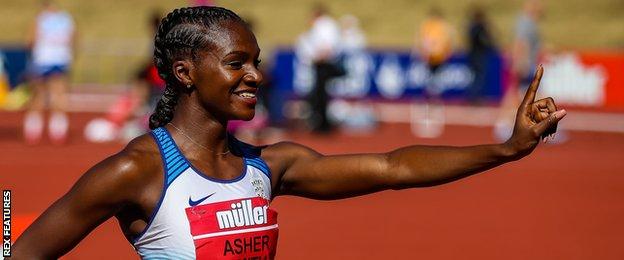 "So, if I can go even quicker, that would be great and put me in great shape for the Europeans.
"I am currently ranked third and it would be great to win a medal. I just don't want to be making up the numbers - I want to be doing well at major championships."
Dobbins' late emergence into the limelight - she is two years older than Asher-Smith - comes partly down to her battle to overcome teenage epilepsy and a foot stress fracture in 2015.
"It is just about being patient," she suggests. "I've been with the same coach for six years now and we have improved every year.
"The things we changed this year were to get stronger in the gym - I'm working with a strength and conditioning coach this year, which I've never had before - so that's definitely helped my speed and then we've been working on my finish.
"My finish is so strong, we neglect it because it's always been good, but this year we thought 'what if we can get it better?' and my last 50 is so strong it has really helped me."
Dobbin's progress would also likely have been swifter had she not also struggled with finance.
The Loughborough University psychology graduate gave up her work as a registered behaviour technician helping children with autism last year because of the impact on her athletics.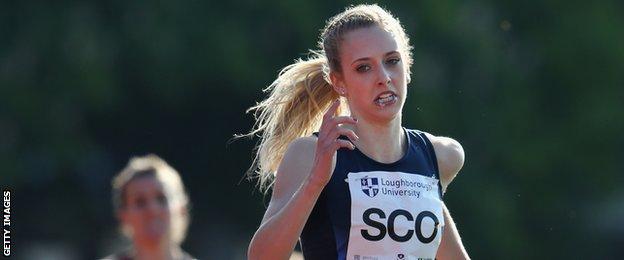 However, two part-time jobs - working in the university's security gatehouse and as a receptionist - mean "it is still a struggle".
"It is a seven-day week from October through to April with an occasional day off because I'm saving up for the summer as I need time off then to travel to and from races," she adds.
"I'm only working four days a week in the summer, so you have to work your butt off almost throughout the winter.
"I get up at 6am every day for work, so I don't sleep that much. Athletes are recommended to get 10 hours sleep and I'm lucky if I get six.
"I don't have any funding or sponsorship yet and I don't know what more I need to do to get it. I've proved to them that I can mix it with the big girls."
Also rubbing shoulders with some of the world's best in London will be fellow Scot Jemma Reekie, the European junior 1500m champion.
The Kilbarchan runner, who was runners-up to Laura Weightman at the weekend trials in a new personal best, echoed Dobbin by describing it as the culmination of "a crazy week".
"I'm so excited to say I have ran myself into my first senior Great Britain selection at 20 years old for the World Cup next week in London," she said on Twitter.