Beth Dobbin: British 200m champion talks seizures, PTSD and Olympic dreams
By Katie Falkingham
BBC Sport
Last updated on .From the section Athletics40
"Slowly, the light started to go out. I remember thinking 'I'm going to die', so I just wanted to let it happen."
As a teenager, Beth Dobbin suffered an epileptic seizure so severe it left her unable to walk, talk or even recognise her own father.
Years of anxiety and "brutal" post-traumatic stress disorder (PTSD) followed - "I just had no control over it," she says.
Yet 11 years on, the 200m sprinter has smashed a 34-year Scottish record and been crowned British champion.
Last week she donned a British vest for the first time at the inaugural Athletics World Cup in London, and will do so again in August at the European Championships in Berlin.
Here, 24-year-old Dobbin tells BBC Sport about her seizure, thinking microwaves were cupboards and issuing parking tickets to keep her Olympic dreams alive.
Seizure in the schoolyard
I remember looking at Dad thinking that I had seen him before, but I didn't know who he was.
Tuesday, 13 November 2007 was just another school day for 13-year-old Dobbin.
She'd struggled to put her mascara on that morning because of a twitch in her hand but, aside from that, everything seemed normal. Then her day took a drastic turn at break time.
"I was just stood with my friends, and all of a sudden my head started rocking and my eyes started rolling back," she says.
"I remember thinking 'this doesn't feel good', so I grabbed my best friend. Still now, to this day, I can picture her face, she looked terrified."
Dobbin fell unconscious for 15 minutes and paramedics initially thought she had suffered a stroke as she had lost all movement down her left side.
Her mum Jean and Scottish dad Jim - a former footballer for Barnsley and Grimsby among others - rushed to her side.
"I woke up with all of these people around me and I had no clue who any of them were," she says.
"I couldn't talk, I couldn't walk, I couldn't move the left side of my face. I couldn't recognise my parents and I had no memory."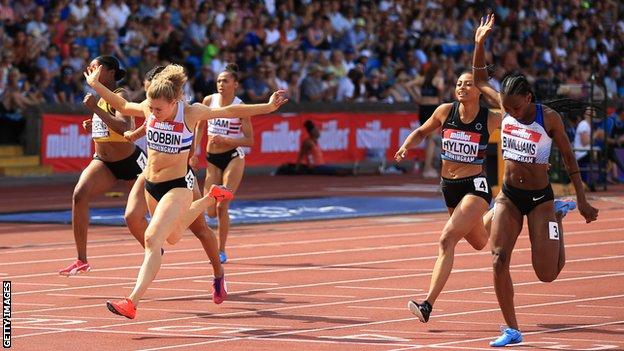 Is it a microwave? Or a cupboard?
I would get confused about different things, and people didn't understand that I just couldn't speak.
Dobbin spent a week in hospital following the seizure, and her ability to walk started to return slowly but her difficulty with speech proved more problematic.
"I would get confused about different things, and people didn't understand that I just couldn't speak," she says.
"I remember always calling the microwave the cupboard - I was trying to say 'microwave' but 'cupboard' was coming out."
Athletics, understandably, went on the backburner and Dobbin was put on drugs to control her condition.
She came off the medication in her late teens, but then began what she describes as the "hardest part of the whole journey".
"It has been such a struggle because your medication is your safety net. You know it works for you and you're not going to have a seizure," she says.
"When they take that away from you, it's so psychologically hard because you're always thinking 'am I going to have another seizure?'"
'I was in denial but I had PTSD'
There were all these emotions that I just put to the side, because I felt that I couldn't express them.
Dobbin, who is teetotal, was on a night out with friends while at university when she had a "funny turn". She thought she was going to have another seizure but it turned out to be an allergic reaction.
But that one night on the town was enough for everything to unravel. Years of anxiety came spilling out and years more of torment followed.
"I was diagnosed with PTSD, but it had been going on for a long time before that. I was in denial," she says.
"When I first developed it, I was having so many flashbacks to that day at school. It was physical flashbacks, so I wasn't just seeing it in my mind. My hand would feel like it was curling up like it did that day, or it would feel as though my head was rolling back. It was really scary.
"I didn't deal with it at the time [of the seizure], I went straight back to school. I was a teenager, my emotions were running high, and people weren't necessarily that understanding about it. I felt that I couldn't express my emotions."
Now, Dobbin says her anxiety "doesn't control" her life anymore. There are still days where she "obsesses" over it but she could "count those times on two hands".
She adds: "Back then, people weren't speaking about mental health in sport. In sport, you've got to be tough, you've got to be brave. Now people are coming out and speaking about it."
The receptionist with Olympic ambitions
My mum always tells me I'm the strongest person she knows, so for this to happen to someone like me, it shows it can happen to anyone.
Despite her recent success, Dobbin is very far from being a full-time athlete, unlike many of those she will race against in Berlin next month.
"I'm just a receptionist," she says of her job at Loughborough University's sports facilities, which also involves handing out parking tickets and fitting in school visits around her training and racing.
But Dobbin is a receptionist with Olympic-sized dreams. Even if, until recently, she didn't think she would ever reach that level on her own.
"I've always said I want to make the Olympics, but I used to think that would be as a relay member," she says. "Now I want to be an individual runner there, and there's no reason why I can't be."
But there is another box Dobbin needs to tick. After the "heartbreak" of missing out on qualification for Scotland's Commonwealth Games team earlier this year by just one hundredth of a second - four years after also missing the cut for Glasgow 2014 - she needs to make amends.
"I need to make a Commonwealth Games," she adds. "When it comes around to Birmingham in 2022, I have to be there. I can't miss out on a third.
"I'm not quitting athletics until I make a Commonwealth Games."