Irena Szewinska: Poland's three-time Olympic champion sprinter dies aged 72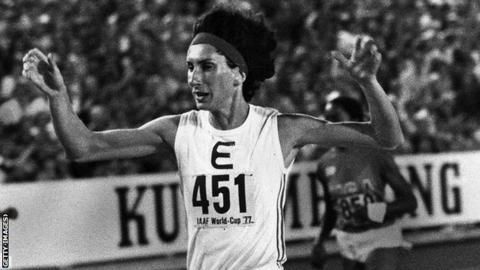 Former Polish sprinter and three-time Olympic gold medallist Irena Szewinska has died at the age of 72.
Szewinska won 4x100m relay gold at the 1964 Tokyo Olympics, adding individual gold over 200m four years later and winning the 400m in 1976.
She won seven Olympic medals in all, was the first woman to break 50 seconds for 400m and set 10 world records.
"Irena inspired a generation of women in Poland and around the world into athletics," said Lord Coe.
The IAAF president added: "She was a national hero and my friend. Her loss will be felt the world over."
Szewinska died in Warsaw on Friday after a long battle with cancer.
She focused more on 400m from 1973, and set a world record of 49.28 seconds at the 1976 Olympics in Montreal, which remains the Polish national record.
Between 1974 and the 1978 European Championships, she won 34 consecutive 400m finals.