British Championships: Chris O'Hare hopes for 'Scottish 1-2-3' repeat in 1500m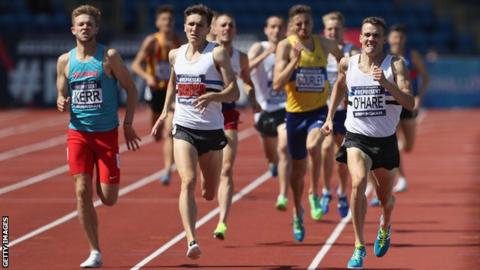 Chris O'Hare hopes Scotsmen can again take the top-three positions in the men's 1500m at this weekend's British Athletics Championships.
O'Hare, Josh Kerr and Jake Wightman won gold, silver and bronze respectively last year in Birmingham, which also hosts this year's event.
The 27-year-old O'Hare's compatriot Neil Gourley finished fourth.
"It is going to be very exciting, that is for sure," said 2014 European Championships bronze medallist O'Hare.
"I'd love to see another 1-2-3 for Scots - or even a 1-2-3-4 like last year. [England's] Charlie [Grice] is in better form than a year ago, though, so that's a big danger and there will be others."
O'Hare, Kerr and Wightman represented Great Britain at last year's World Championships, where O'Hare came 12th in the 1500m final.
Wightman took bronze in the 1500m in this year's Gold Coast Commonwealth Games as O'Hare finished eighth.
Gold medal winners at the British Championships will be part of the Great Britain team for August's European Championships in Berlin. Silver medallists will also be selected if they meet the qualifying standard.
"I'm ready now to go again next week and the good thing is I am definitely in much better shape than I was in Australia for the Commonwealths," added O'Hare.