Rome Diamond League: Ronnie Baker wins 100m in 9.93secs as Christian Coleman fades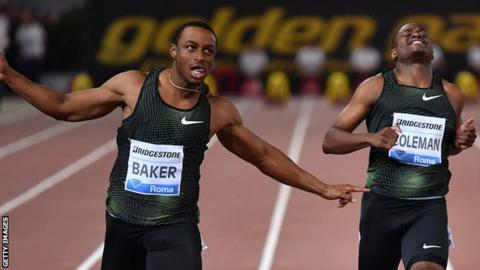 Diamond League 2018 highlights
Venue: Rome
Coverage details: Highlights show on BBC One on Saturday, 2 June, from 13:15 BST
Ronnie Baker produced the fastest 100m of the year to win in Rome although the expected tight battle against Christian Coleman failed to materialise.
Baker, 24, trailed world silver medallist Coleman in the first 60m before powering away to finish in 9.93 seconds as his fellow American slowed down and came fourth in 10:06.
Luvo Mayonga edged out Juan Miguel Echevarria in a great long jump duel.
The South African leapt to a world lead 8.58m to beat the Cuban by only 5cm.
Discus great Sandra Perkovic won the 40th Diamond League event of her career with a throw of 68.93m. She finished ahead of Cuban pair Yaime Perez (66.62) and Denia Caballero (63.48).
"I'm proud to be the most successful athlete in Diamond League history," said the Croatian world champion.
It was not such a good night for the British athletes though.
Charlie Grice had the best placing among those taking part when he finished fifth in the men's 1500m in a time of three minutes 35.72 seconds.
Compatriot Chris O'Hare was ninth (3:36.47) in a race won by Kenya's Timothy Cheruiyot in 3:31.22 - the fastest time of the year.
Hertfordshire runner Kyle Langford, who was fourth at last year's World Championships, was last in the 800m race which Kenya's Wyclife Kinyamal claimed in 1:44.65.
In the men's 400m, Matt Hudson-Smith was eighth (45.52) behind winner Fred Kerley of the USA (44.33), and in the women's 3,000m steeplechase, Rosie Clarke finished eighth, setting a personal best of 9:32.08. The race was won by Kenya's Hyvin Kiyeng in a world lead time of 9:04.96.