Leon Reid: Commonwealth medallist to headline Belfast International meet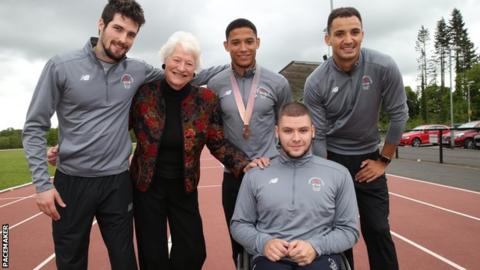 Northern Ireland's Commonwealth Games medallist Leon Reid will be the main headline name in action at the Belfast International meeting on 26 June.
Reid was in Belfast on Tuesday for the launch of this year's event as he was joined by other Northern Ireland competitors from the Gold Coast Games.
The Bath-based sprinter hopes to use the Belfast event as part of his build-up towards the European Championships.
However, his spot in Berlin depends on his transfer to Ireland going through.
That looks set to be decided at the next meeting of the IAAF council in Buenos Aires in July - only a couple of weeks before the European Championships in the German capital.
The world governing body halted all international transfers last year pending a review but is expected to make a further ruling on the issue in Argentina.
One of the proposals will be a recommendation from a review working group that there should be a "minimum three-year waiting period before an athlete may transfer to represent another member".
Reid last represented Great Britain in 2015
Bath-based Reid last represented Britain at the European Under-23 Championships in July 2015 when he won a 200m silver.
If the IAAF ruled that his transfer could start from that point, he would be eligible to represent Ireland in Berlin.
However despite his limbo status, Reid is optimistic that he will be on the startline in Berlin.
"I definitely see the Belfast International as a stepping stone on to the Europeans that I am aiming for this summer," added the Gold Coast bronze medallist.
"I've won at the meet two years in a row and the Mary Peters Track is one of the fastest tracks I've ever run on.
"This is a massive, massive meet for us athletes in Northern Ireland and I can't wait for the 26th of June."
The Northern Irishman clinched a surprise 200m bronze in Australia despite crossing the finishing line in fourth spot as England's Zharnel Hughes was disqualified for a lane infringement after initially thinking he had won the gold.
Reid's rivals in his specialist 200m are expected to include Northern Ireland's Commonwealth Youth Games champion from last summer in the Bahamas Aaron Sexton while paralympic star Jason Smyth is expected to be among his opponents in the 100m.
Ciara Mageean, Sommer Lecky, Ben Reynolds and Amy Foster are expected to be among other members of Northern Ireland's Commonwealth Games team in action at the Belfast meet with local hurdlers Megan Marrs and Mollie Courtney also expected to compete.