Belfast Marathon: Kilkeel's Laura Graham aims for repeat win after 2017 triumph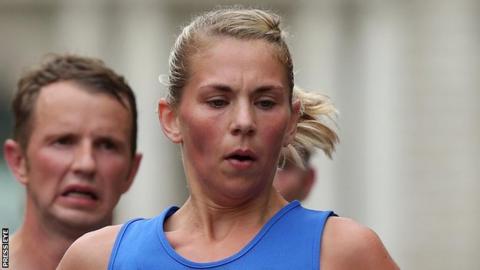 Laura Graham will aim for a repeat women's win at Monday's Belfast City Marathon after becoming the first local winner since 1999 12 months ago.
The race will continue Graham's build-up to the European Championships.
Athletics Ireland said on Sunday that it was "very happy" for the Kilkeel mother-of-four to run in Belfast.
There had been reports last week that a directive stating selected athletes should not run another marathon before the Berlin races might be enforced.
However, Athletics Ireland's director of high performance Paul McNamara told BBC Sport Northern Ireland on Sunday that the national governing body was "totally content with Laura's fine-tuned racing programme" devised by the athlete and her coach Ryan Maxwell.
Having run two marathons in eight days last year, the 32-year-old was probably wondering what all the fuss was about with the women's event in the German capital not taking place until 12 August.
But any threat of her Berlin participation being imperilled by her Belfast outing has now been removed.
Graham set to face 2:27 runner Kepchirchir
Granted, the twice Irish marathon champion is likely to face a battle to earn a second Belfast win.
Kenyan Caroline Kepchirchir will go into Monday's race with a personal best almost 10 minutes faster than the Northern Irish woman.
That time of 2 hours, 27 minutes and 27 seconds was set in Slovenia in 2013 so it remains to be seen whether the 2006 Commonwealth Games competitor is still in that kind of shape.
Kepchirchir is part of the Project Africa initiative run by local coach Ciaran Collins which has seen several Kenyan athletes both base themselves as well as compete regularly in Ireland to gain greater experience.
Graham secured her European Championship berth by improving her personal best to 2:37.05 in Berlin last September and again demonstrated her amazing durability a little over a month later as she retained the Irish title in Dublin with a 2:39.06 clocking.
Ethiopia's 2016 women's winner Berhan Gebremichael is also down to compete along with Czech athlete Radka Churanova who achieved a podium finish in 2016 and was fourth 12 months ago.
Kipsang seeking fourth Belfast men's win
In the men's race, Kenyan Joel Kipsang will seek a fourth Belfast win after triumphing in 2013, 2015 and 2016.
Kipsang is expected to be challenged by his compatriot and last year's runner-up Dan Tanui whose time of 2:17.40 behind Bernard Rotich (2:16.02) 12 months ago would have been enough to secure victory in most years.
Tanui is another member of the Project Africa team while the strong Kenyan entry also includes Eric Koech, who clocked 2:18.43 in Belfast two years ago.
Two-time Irish Olympic race walker Colin Griffin is an intriguing entry after clocking 33 minutes and 38 seconds at the recent Titanic 10Km in Belfast while the Northern Ireland hopefuls include Jarlath McKenna who finished sixth in the event in both 2016 and 2017.
With the race beginning at City Hall at 09:00 BST, a cumulative 17,000 participants are expected to compete in the marathon and wheelchair race, marathon team relay, eight-mile walk and fun run.
The 26.2-mile marathon sees a big surge in entries this year, with around 3,000 expected to take part with runners initially heading towards west Belfast before before coming back through the city centre to the west en-route to a short section within Newtownabbey, via North Belfast.
2018 has also seen an increase of Team Relay participants, with around 2,200 five-person teams participating.