Asbel Kiprop: Former Olympic champion tipped off about doping visit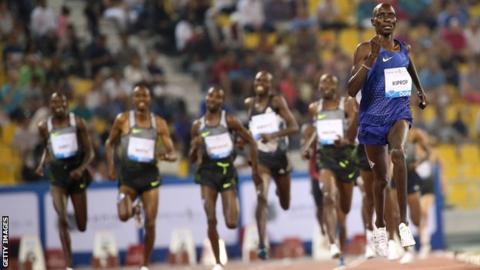 Former Olympic 1500m champion Asbel Kiprop was tipped off by a doping control officer about a drugs test, but officials deny he was asked for money.
The Athletics Integrity Unit (AIU) confirmed the Kenyan, 28, tested positive for EPO after an out-of-competition test in November 2017.
The three-time world champion alleged his sample "turned positive" because he did not give the testers enough money.
That is rejected by the AIU, which said his sample was not tampered with.
However, the independent body which manages all doping-related matters for athletics said it is "extremely disappointing" Kiprop was provided with advance notice of the testing.
A tribunal will determine whether this has any effect on the case against the athlete.
Kiprop denied he has doped and said he paid the testers an unspecified amount of money via an electronic transfer and did not consider it untoward.
"At that time I did not see the money as an inducement or bribe," he said.
"I gave it in good faith thinking they may have some need known to them."
In a statement released via his lawyer on Thursday, Kiprop said:
He was phoned the night before and told he would be tested, a breach of anti-doping rules
Testers asked for an unspecified sum of money
He left his sample unattended while he went to look for cash
He was asked to admit his guilt so he could be made an IAAF anti-doping ambassador
"I did not at the time expect that the request for the money had anything to do with the sample," said Kiprop, who says he is a police officer.
"In retrospect I now clearly see the money as having a relation with the sample collected on that date, and even the irregular advance notice I was given.
"I remain perplexed on how my innocent sample could turn positive on the only time when money was extorted from me.
"It is not beyond my suspicion that my sample turned positive because I might have remitted less money than I was expected to remit."
The AIU said on Friday that Kiprop was charged with doping rule violations in March after his B sample confirmed the presence of blood-boosting agent EPO in a urine sample, and the case will be considered by an IAAF disciplinary tribunal.
It investigated his allegations and said a doping control assistant known to Kiprop was involved in testing him on 27 November 2017 and gave the athlete advance notice of the test.
"The advanced notice of testing given by the doping control assistant could not reasonably have caused EPO to be present in Mr Kiprop's sample and, as such, the departure does not invalidate the adverse analytical finding," said the AIU in a statement.
"This will ultimately be a matter for the tribunal to determine."
It denied Kiprop's confidentiality was breached or that any financial reward was offered.
"Prior to the commencement of the disciplinary proceedings AIU investigators met with Mr Kiprop," said the AIU.
"The purpose of the meetings was to notify him of the positive test and give him the opportunity to admit any offence promptly or to provide information about doping in athletics that could amount to "substantial assistance".
"This is standard practice for the AIU when serious doping substances have been detected in any sample. Any suggestion that there was anything improper about this conversation is categorically untrue."
The Anti-Doping Agency of Kenya has distanced itself from two men named in Kiprop's statement which alleged irregularities in his drug testing process.
It said the men are "not employees of the agency and are not in any way associated with any of our activities."
Kiprop finished second at the 2008 Beijing Olympics but was upgraded to gold when Bahrain's Rashid Ramzi failed a drugs test.
He added world titles in 2011, 2013 and 2015 and has run the fifth fastest 1500m of all time.
Kiprop was notified of the failed test in February and insisted he would prove he is a "clean athlete".
"I only yearn for fairness and justice beyond all schemes, politics, and machinations. I insist I am innocent even if I am forsaken," he said.
"I am innocent. I do not labour under the weight of the shame of doping."
The IAAF has been approached by BBC Sport for comment.