Mo Farah: Olympic track champion to miss marathon at European Championships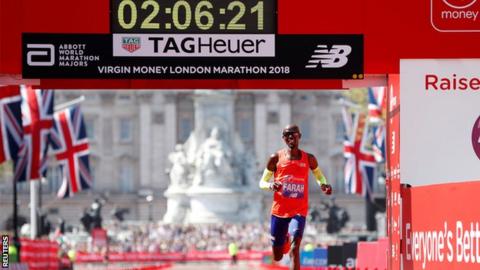 Mo Farah will not take part in the marathon at August's European Athletics Championships in Berlin.
The four-time Olympic track champion achieved the qualification at last weekend's London Marathon, where he finished third in a new British record.
Farah, along with a number of other British men including Scotland's Callum Hawkins, have the European standard but none have taken up the invitation.
Six Britons will take part in the women's race in Germany.
"Several men fulfilled the qualifying standard and it was the intention of the selection panel to have representation in Berlin," said British Athletics performance director Neil Black.
"However, personal preference or injury means no places were accepted."
Farah, who is planning to run over the distance at the Tokyo Olympics, is expected to compete in next year's World Championships in Doha.
The women's team will compete individually as well as in the team event, and is headed by Lily Partridge, who was the first Briton home in London in eighth in a personal best of 2:29.24, easily beating the 2:36 standard.
She will be joined by Tracy Barlow, who finished behind Partridge in London, as well as Sonia Samuels and Alyson Dixon, who earned automatic selection for Berlin after finishing as the top Britons in fifth and sixth overall at the Commonwealth Games in Australia.
Charlotte Purdue, the first European home over the distance at last summer's World Championships in London where she finished 13th, and Wales' Caryl Jones complete the team.