Commonwealth Games: Sprinter Amy Foster is added to Northern Ireland team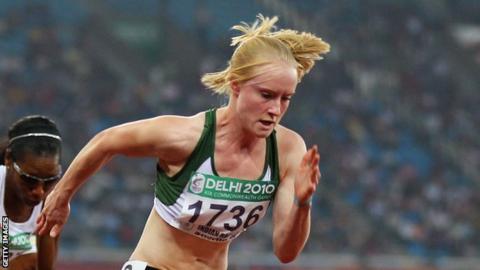 Track and field athlete Amy Foster has been drafted into the Northern Ireland Commonwealth Games team following the deselection of boxer Conor Wallace.
Northern Ireland's Commonwealth Games Council said it was "not at liberty to discuss" the reasons for the Newry boxer's deselection.
Foster had said she was devastated after not being originally named in the NI team in early January.
However, Wednesday's news means Foster will run the 100m in Australia.
Light-heavyweight boxer Wallace won the Ulster Elite title in November on a walkover when his final opponent Karol Dlugosz from the Scorpion club in Ballymoney was unable to take part in the contest.
Light-flyweight Ricky Nesbitt, super-heavyweight Joe Joyce, women's middleweight Sarah Close, light-heavyweight Caroline Connolly also won Ulster boxing titles on walkovers but missed out on selection for the Gold Coast games.
Foster, 29, responded to her Games omission by equalling the Irish indoor 60m record which she held with two other athletes before going on to break the mark at the national indoor championships in Dublin with a 7.27 seconds clocking.
That earned the City of Lisburn sprinter a place in the Ireland team at last weekend's World Indoor Championships in Birmingham where she bowed out in the first-round heats after clocking 7.35.
The Northern Ireland Commonwealth Games Council approved 11 track and field athletes for selection in January, which meant that Foster missed out as she was 12th in Athletics Northern Ireland's nominations order.
Foster made clear her disappointment after the selection, while her coach David Reid also registered his anger at the athlete's omission on social media.
Foster will be competing at her third Commonwealth Games, having represented Northern Ireland in Delhi and Glasgow.
"I was disappointed with the original selection but for me now it is all about looking forward," Foster said on Wednesday.
"I have run well recently indoors and I feel in a really good place.
"I had accepted it wasn't happening and moved on and I focused on getting to the World Indoors, but it is now nice to change my focus to going to the Commonwealth Games and any feelings I had are now in the past.
"For me these Games were always very important. I always believed I could get to a final and hope I can put enough preparations in over the next few weeks to push towards that."