Sir Roger Bannister: Lord Coe and Steve Cram hail 'inspirational' athlete after his death, aged 88
Last updated on .From the section Athletics
Sir Roger Bannister, who died on Saturday at the age of 88, has been described as "one of the greatest inspirational figures in the history of British sport".
He secured his place in sporting history when he became the first person to break the four-minute mile barrier.
He achieved the feat when he ran time of three minutes 59.4 seconds at Iffley Road sports ground in Oxford on 6 May, 1954.
Bannister went on to become a consultant neurologist, and viewed running as something to be done in his spare time.
Tributes have been paid to a history-maker, doctor and anti-doping pioneer.
Steve Cram
BBC Sport athletics commentator, 1983 World Championship 1500m gold medallist and former mile world record holder.
"Sir Roger was a huge inspiration to anyone of our era. I actually got to meet him in my teenage years. I got to go to the Commonwealth Games when I was 17.
"To meet him was quite daunting actually because he represented this incredible achievement. He set off this tradition which hopefully me, Seb and Steve Ovett tried to carry on around Great British middle distance running.
"I actually thought I was quite like him as an athlete in terms of his style. I wasn't always the most elegant. In my early days I was a bit gangly.
"Sir Roger, when you see those pictures of his head thrown back and arms flailing coming down the home straight, it really resonated with me individually as well.
"There were others in between that were more closer to my age but Sir Roger Bannister was British and that was the key. That achievement was something which as a nation - I was growing up in the 1960s and 1970s - we were incredibly proud of that this guy had been a pioneer.
"I used it so often over the years to inspire me individually. I wanted to be a Great British miler following in his footsteps."
Lord Coe
The president of athletics' world governing body the IAAF, two-time Olympic 1500m gold medallist for Great Britain and three-time mile world record holder.
"His achievement transcended sport, let alone athletics. It was a moment in history that lifted the heart of a nation and boosted morale in a world that was still at a low ebb after the war.
"We have all lost a giant and, for many of us, a deep and close friendship.
"Roger was a friend of mine, there is not an athlete in my generation partially in middle distance that didn't look up to him.
"I was inspired by what he went on to do after his athletics career because he become one of the world's best neurologists and of course chaired the UK Sport council."
Mike Costello
BBC Sport athletics correspondent
"This is a man forever attached to one of the landmark moments in sporting history and he is one of the greatest inspirational figures in the history of British sport.
"Whatever he said in his later years about wanting to be remembered for what he had done in medicine, in sporting terms his name has a very special attachment to the mile which endures to this day.
"He changed his training pattern after his failure at the Olympic Games in 1952. He was favourite to win the gold in the 1500m, which was referred to as the metric mile, at those Games.
"He finished in fourth place and even contemplated giving up sport at that stage and concentrating solely on his career in medicine. But he decided to continue and set the goal to break this four-minute mile.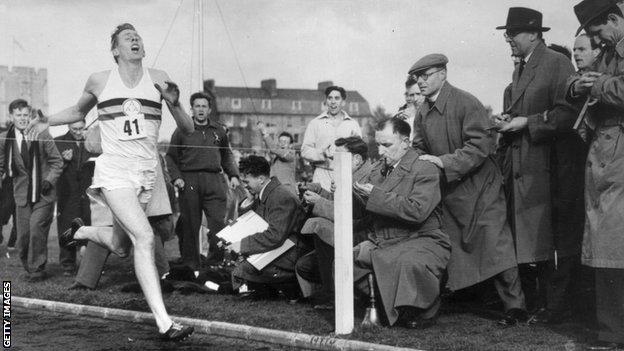 "He changed the kind of training that he did. It was very innovative at the time. It was interval training, which in very simple terms is a mixture of the pace of distances at training - 200m at a very fast pace and 200m virtually jogging. That's it broken down in simple terms but he was one of the first to take on that kind of a training pattern.
"He also used his psychology - not surprisingly for a man who went on to serve with such distinction in the medical profession in neurology. He used to talk about how it was so important not to create these barriers in the mind.
"He wanted to convince himself in his own mind that that four-minute mile barrier was his to be broken before anybody else.
"Bannister created this special British link, this fascination, this relationship with the mile that does endure today even if that's not case around the world."
Hugh Brasher
The son of Chris Brasher, who was one of Bannister's pacemakers when he broke the four-minute mile barrier.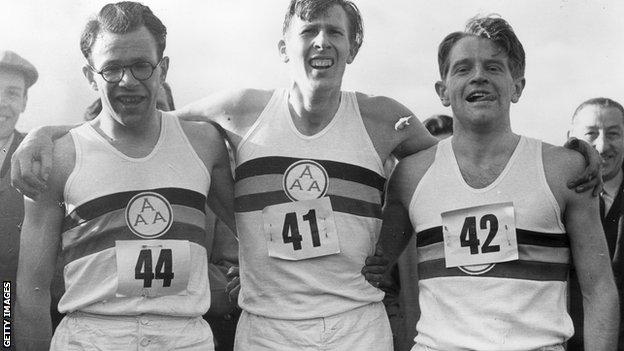 "What he did was so profound and seen as impossible at the time. It's difficult for us to understand 64 years later. This was a time when Britain had just come out of the war, rationing was part of life and it was deemed physiologically impossible.
"Roger believed it was possible. It was his belief. Yes my father and Sir Christopher Chataway were part of the team, but it was Roger who did it, with the belief.
"It was incredible to think he was training full time as a junior doctor.
"Roger's medical knowledge came into it. He was more than just a great athlete in terms of what he did in medicine and in life, how humble he was and he achieved something which was among the great sporting achievements of the 20th century.
"There was a story where my father bundled Roger into a sports car and they drove to North Wales for training to get away from the rigours of what they had been doing.
"They came back and the training had moved on a second over 400 metres. They were incredible people.
"It is the passing of an era. What they achieved on the track and what Roger did, I think will be remembered forever."
'A pioneer for our sport'