2018 FPSG National Open: Youngsters take on hero Eilidh Doyle in Glasgow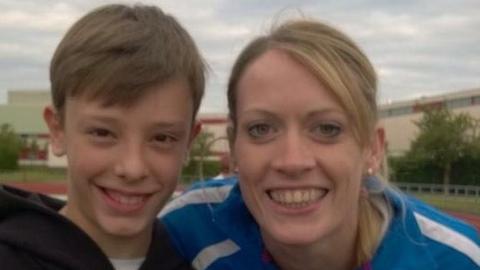 One of Scottish Athletics' biggest gatherings takes place on Saturday at Glasgow's Emirates Arena.
Athletes of all ages and abilities will gather for the 2018 FPSG National Open - in total 795 have entered events from sprints to 1500m and indoors jumps and throws.
The event is contested on a mixed gender basis and allows youngsters to compete alongside their athletics heroes.
Scott Hannaway, 15, of Inverclyde AC, has entered the 400m. His personal best time of 51.85 betters that of double Commonwealth Games medallist Eilidh Doyle, by just one hundredth of a second.
The races are seeded by time, meaning Hannaway, who usually competes in the under-17 age group, is set to line up alongside the Olympian and Great Britain captain.
"It's amazing to be racing Eilidh as she is one of my role models," said Hannaway.
"This race is a big step in my career and I will run my best."
The pair have met once before, in 2014, when Hannaway was just beginning his athletic journey.
Doyle, 30, made a visit to Greenock to meet the BBC Scotland Unsung Hero, Inverclyde AC coach Janice Hendrie.
Hannaway was thrilled to meet one of Scottish Athletics' golden girls as he posed happily for a photo with his hero.
"After seeing her and learning of her achievements, it inspired and motivated me to push myself at training and get faster every race," he said.
His story sums up the spirit of the National Open as Scottish Athletics strives for development at a domestic level.
Elite athletes are encouraged to have an inspirational and motivational role.
For Doyle, this will be her first 400m this winter.
"It will give me a good idea of where I am at ahead of the British Champs [on 17-18 February in Birmingham] and the Muller Indoor GP [in Glasgow on 25 February]- followed by the World Indoors in Birmingham [from 1-4 March in Birmingham]," she said.
"I'd love to make the individual 400m event for the World Indoors but with selection being two per event, I will need to run fast.
"It is something to aim for and the events at the Emirates hopefully help towards that.
"I was asked for a few photos last weekend and people were saying 'thank you' to myself and Laura [Muir] for competing at the GAA Miler Meet, but the way I see it we're here and we are looking for events so we're happy to race in Scotland."
Doyle has been watching the build-up to the National Open on social media, as athletes across the country realise they will be warming up and competing alongside the elite of the sport.
And she replied on Twitter: "See you there."