Commonwealth Games: Birmingham set to host 2022 event

By Dan Roan
BBC sports editor
Last updated on .From the section Athletics175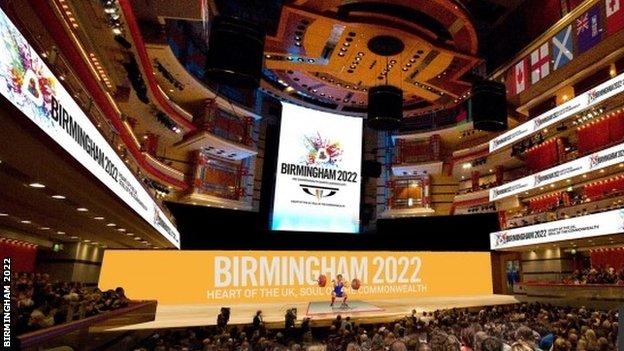 Birmingham is set to be officially announced as the host of the 2022 Commonwealth Games on Thursday.
It was the only interested city to submit a bid before the original 30 September deadline but was deemed "not fully compliant" by the Commonwealth Games Federation (CGF).
The CGF then gave rivals until 30 November to apply.
Earlier this month the CGF reiterated it needed "further clarification on issues" before choosing a host city.
But the BBC understands Birmingham has now finally prevailed in its attempt to stage the £750m showpiece, the most expensive sports event in Britain since the London 2012 Olympics.
The bidding process has been beset with problems, with the South African city of Durban originally awarded the Games in 2015 before being stripped of the event in March because it did not meet the CGF criteria.
Birmingham beat Liverpool in September to be Britain's candidate city and the bid subsequently received government backing.
As part of its bid, Birmingham has proposed to create the UK's largest permanent athletics stadium, supplemented by four indoor arenas.
Analysis
Birmingham is securing its first global sports event and will become the third British city since 2000 to host the Commonwealth Games.
Other than Liverpool, it never faced a proper rival and was made to wait by the CGF, but none of that will bother a bid team that was always confident of victory.
The fact there was only one official bidder is another reminder of the image problem facing big sports events. But the CGF has a new strategy designed to help support host cities, and believes its partnership with Birmingham can help find a solution to the challenge facing sports federations.
Meanwhile, a bitter five-month long bin dispute has finally been resolved but amid further budget cuts, West Midlands local authorities will need to raise 25% of the overall cost of staging the Games.
Organisers insist essential services will not be affected, and that the event will prove great value for the West Midlands, showcasing a diverse and youthful community, and leaving a sporting and economic legacy.
But after the fiasco of the London Olympic Stadium's finances, there will be significant scrutiny of the costs and legacy benefits.
However, after London 2012, Glasgow 2014, the start of the Tour de France and recent world championships in rugby, women's cricket and athletics, Britain is now set to organise yet another major sports event.
It is a reminder of the importance the government now places on hosting sport as a platform for trade and tourism as the country prepares for Brexit.