Love blossoms as Lynsey Sharp and Andrew Butchart launch Scots' team tartan
Last updated on .From the section Athletics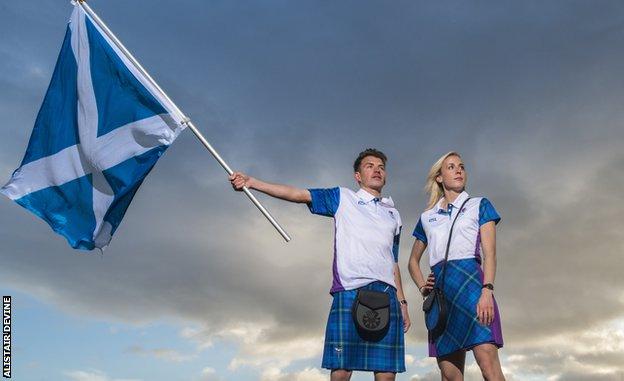 Scottish athletes Lynsey Sharp and Andrew Butchart hope their new-found love will help as they bid for Commonwealth Games glory next year.
The pair became a couple this year, now share the same coach and will travel to Australia as part of the Scotland team for the Gold Coast 2018 Games.
Butchart said: "It means a lot to us both to get to go away together and just to enjoy life.
"We can both discuss sessions and we can both talk a lot about athletics."
The couple were speaking as they launched Team Scotland's parade uniform for the 2018 Games in the Gold Coast - a collaboration in blue, green and purple between Perth tartan manufacturer House of Edgar and Scottish fashion designer Siobhan Mackenzie.
Butchart, from Dunblane, finished sixth in the 5,000m at the Rio 2016 Olympic Games and revealed that it was in Brazil where he started to get to know Sharp.
"I think it all kind of happened behind our own backs," the 26-year-old said. "We didn't realise what was happening, but yeah, obviously we had the same schedule in Rio and this year we just kind of blossomed up.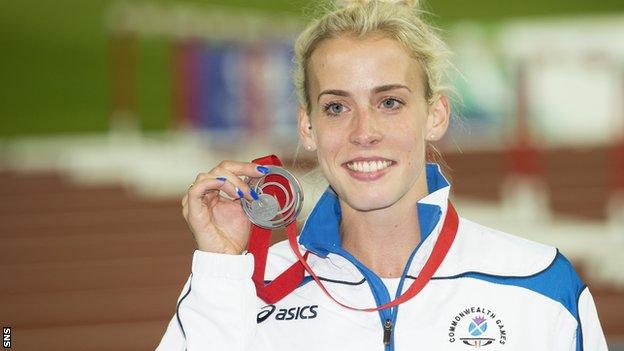 "We are looking forward to the Commonwealth Games together, that's for sure."
The couple now live in San Diego, with Butchart having switched coaches to work with Terrence Mahon, who is also Sharp's coach.
And, as much as the move was convenient for the pair's living arrangements, Butchart stressed that changing coaches was a career choice first and foremost.
"Always coaching reasons, yeah, it always comes down to athletics first," he added. "We've always said that since day one - it's always to be athletics number one, so I had to go to Terrence for my progression."
Sharp, an 800m silver medallist at the Glasgow 2014 Games, says having Butchart around is already benefitting her on the track as well as off it.
"It just makes it a bit more fun, a bit more light-hearted to be able to go out and do social things as well as just training, so it makes training camps a lot better," the 27-year-old said. "Just generally a lot more fun.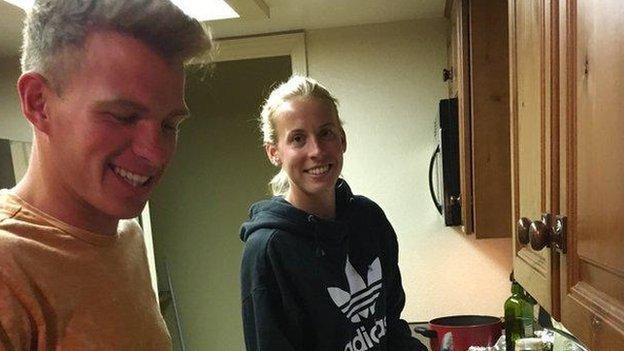 "Andrew is a lot more laid back it in his approach. I've definitely taken that on board.
"I can get quite stressed-out on competition days, so I've tried to be a bit more laid back and have fun because, at the end of the day, that's what it's about, having fun."
And, in terms of the pair becoming an item, Sharp admitted it took some friends by surprise.
"People took some time to get used to it because they knew us both as individuals and we are both quite different," she added.
"People couldn't understand how it worked, but then they spent time with us together, they see that we get on so well and we are actually quite similar in some respects."