Mitchell stars in Queen's relay success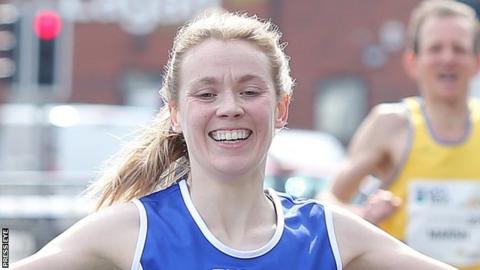 An outstanding leg by Emma Mitchell helped Queen's clinch women's victory at the Northern Ireland and Ulster Road Relays in Belfast on Saturday.
Commonwealth Games hopeful Mitchell clocked 10 minutes and 31 seconds for her closing 3,380m leg as QUB finished 38 seconds clear of Letterkenny AC.
Kerry O'Flaherty's first leg of 10:47 had given Newcastle AC an early lead before they faded in the three-leg run.
Both Mitchell and O'Flaherty are hoping to earn Commonwealth Games selection.
Newcastle AC did win the four-leg men's race at Victoria Park in Belfast, but their victory was somewhat overshadowed by the late decision to bar Derry Track Club's entry because Kenyan athlete Gideon Kipsang was in their line-up.
Kipsang, who has been in brilliant form on the local circuit in recent weeks with his victories including last month's Belfast Half-Marathon, was making his final pre-race preparations when Derry were told he was ineligible to compete.
The reason is understood to have been an Athletics NI ruling that only athletes born in Northern Ireland or with a Northern Ireland-born parent or resident in Northern Ireland for a year could race in the competition.
However, Derry Track Club officials maintain that this was not stipulated in the race rules.
Derry Track Club were allowed to run in the event as guests and are understood to have sent a letter of protest to Athletics Northern Ireland.