Anna Chicherova: Russian high jumper loses doping appeal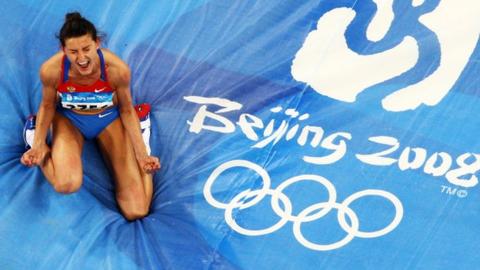 Russian high jumper Anna Chicherova has lost an appeal against being stripped of her 2008 Olympic bronze medal after failing a doping retest.
The 35-year-old finished third in Beijing, but tested positive for banned steroid turinabol when samples were re-analysed.
Chicherova appealed to the Court of Arbitration for Sport (Cas), which dismissed her claim.
She retains her 2011 World and 2012 Olympic titles.
Her bronze medal could be reallocated to American Chaunte Lowe (nee Howard), who originally came sixth, after the fourth and fifth - Russia's 2004 Olympic champion Yelena Slesarenko and Ukraine's Vita Palamar - were also disqualified for doping.
The International Association of Athletics Federations said the case would now be sent to the independent Athletics Integrity Unit to decide upon the appropriate sanction.
Chicherova, who won the 2011 World Championships just three months after the birth of her first child, had vowed to clear her name after learning she was among a group of Russian athletes to have failed the retests.
"It's the most complete shock," she said.
"I can't explain how it could have happened. I was always sure what supplements and medicines I was using."
The International Olympic Committee has been retesting hundreds of samples from the 2008 and 2012 Games, using new techniques to uncover cheating that went undetected at the time.
Russia's athletes were already banned from international competition following allegations of state-organised doping.