Commonwealth Games: 15 athletes nominated for Gold Coast places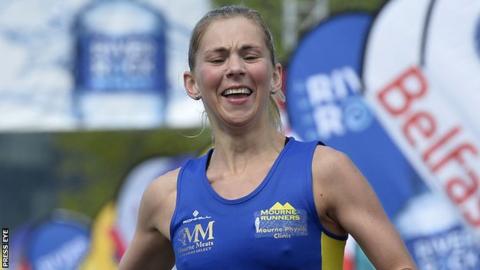 Kilkeel runner Laura Graham is among 15 athletes set to be nominated for next year's Commonwealth Games by Athletics Northern Ireland.
Mother-of-four Graham, 31, missed the Games qualifying standard by only five seconds at the Berlin Marathon last week when she clocked 2:37.05.
The athletics governing body plans to forward her nomination to the NI Commonwealth Games Council this week.
The nominees need to be ratified by the Commonwealth Games body in January.
With the Games Council having to select athletes in other sports for the trip to Australia, there were initial suggestions that as few as eight track and field performers might be ratified.
It is unlikely all 15 on the list will be heading to the Gold Coast, but a double figures representation is now anticipated.
Athletics Northern Ireland officials met on Sunday to decide on their nominations which included adjudicating on the nominations order.
The decisions have been communicated to the athletes who have the option of appealing against the order by Tuesday evening.
If appeals are lodged, they are likely to be heard on Wednesday before the Athletics NI nominations are confirmed on Wednesday evening or Thursday.
Heading into Sunday's meeting, 14 athletes had achieved Games consideration marks although steeplechaser Kerry O'Flaherty and 100m hurdler Mollie Courtney had managed only one standard in their events as opposed to the stipulated two.
In the event, O'Flaherty has moved up one spot from her 13th place in the percentage of standard achieved rankings system used by Athletics NI above sprinter Amy Foster who did achieve two 100m marks.
A view that Newcastle woman O'Flaherty will have a better chance of achieving a finals place than Foster may have played a part in that decision.
However, a Foster appeal will not be a surprise.
Ciara Mageean, European Championship 1500m bronze medallist in 2016, leads the Athletics NI nominations after being fourth in the percentage rankings.
Hammer thrower Dempsey McGuigan, heptathlete Kate O'Connor and teenage high jumper Sommer Lecky are the next three nominated athletes with steeplechaser Adam Kirk-Smith and 200m runner Leon Reid completing the top six.
Athletics Northern Ireland Commonwealth Games provisional nominees
1. Ciara Mageean
1500m
2. Dempsey McGuigan
Hammer
3. Kate O'Connor
Heptathlon
4. Sommer Lecky
High jump
5. Adam Kirk-Smith
3,000m steeplechase
6. Leon Reid
200m
7. Ben Reynolds
110m hurdles
8. Adam McMullen
Long jump
9. Emma Mitchell
10,000m
10. Paul Pollock
Marathon
11. Kevin Seaward
Marathon
12. Kerry O'Flaherty
3,000m steeplechase
13. Amy Foster
100m
14. Mollie Courtney
100m hurdles
15. Laura Graham
Marathon
16. Requested additional athlete
4x100m relay