Sammi Kinghorn and Callum Hawkins secure top-two finishes at Great Scottish Run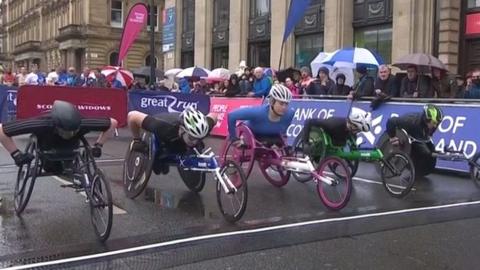 Scotland's Sammi Kinghorn was the first woman across the line in the 10K wheelchair race at the Great Scottish Run in wet and windy Glasgow on Sunday.
She finished second overall, 17 seconds behind men's winner Sean Frame, who came home in 29 minutes and 28 seconds.
Chris Thompson, 36, won the men's half-marathon in 1:02.44, beating Scotland's Callum Hawkins by 34 seconds, with Tsegai Tewelde in third place.
Kenya's Flomena Cheyech Daniel won the women's race in 1:10.17.
Fionnuala Ross was the best-placed Scot with a time of 1:14.26. Jo Pavey was seventh in 1:18.11.
"I am happy considering the conditions and the time I did," said Kinghorn.
For Thompson, who has endured a torrid time with injuries, he hoped the victory would show he could compete at elite level.
"While there is still hunger and a burning desire in there, I'll keep plugging away," he told BBC Scotland.
"It's an honour to race with these youngsters who are pushing benchmarks back from what I achieved in my career.
"Andy Butchart, running his first half [marathon], was saying he would like to have raced us all in our prime - I'm still trying to be in my prime!
"I still feel there's a few more runs in me. Hopefully I can join Callum and the boys on the world stage."
Hawkins, from Kilbarchan, near Glasgow, said: "It's a good way to kick-start the season. Since the Worlds my legs just haven't quite worked but I'm not going to take it away from Thommo, he ran a brilliant race. It's great to see him getting back and hopefully he can push on from there."
In the 10K races, Stuart Gibson clinched the event with a time of 31.37.
Rebecca Murray won the women's race in 34.30, ahead of Jenny Bannerman who clocked 35.50 and Claire Bruce third in 35.55.
The Great Scottish Run culminated with the main 10K and half marathon which started in George Square and finished in Glasgow Green.