Jersey Marathon 2017: Chirchir and Maisch celebrate wins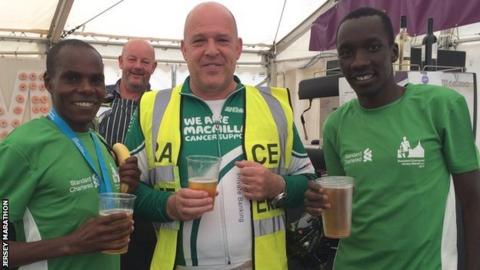 Kenyan Hillary Chirchir held off the challenge from his fellow countryman Emmanuel Melly to win the Jersey Marathon, before Ulrike Maisch took the women's title.
Chirchir and Melly had been side-by-side in the lead from early on but it was Chirchir who had the stronger finish to stride away for victory.
He won by four minutes in a time of two hours, 22 minutes and 31 seconds.
Japhet Koech ran through the field for third spot after turning up late.
Phil Ahier was the first Jersey man across the finish line at the Weighbridge in St Helier, in sixth spot.
"I found it quite hard, at St Ouen I was struggling a bit and I was a bit worried that I was losing pace," 53-year-old Ahier told BBC Radio Jersey.
"I was out on my own quite a bit and I've seen so many people I know on the course and it keeps me motivated."
Salome Kimutai and Inga Zalite led the women's field for a long while, before Maisch powered through to finish in an unofficial time of two hours, 57 minutes and 26 seconds.
"They went off quicker than I did, but I think I caught them at 30 or 32km and then I ran with one of them and then I tried to get away and it worked," she said.
"It's a really nice course and lots of cheering was really good and helped."
Meanwhile, the Guernsey Athletics Club - featuring Olympian Lee Merrien - were the first relay team home and Peter Holmes took the 3K fun run title.