Laura Muir: Sportscotland chief hopes for Commonwealth Games U-turn
By David Currie
BBC Scotland
Last updated on .From the section Athletics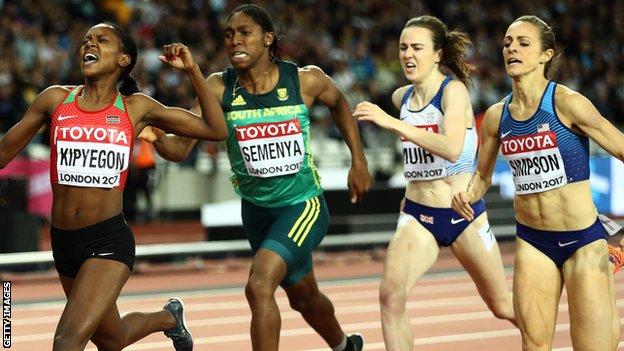 Sportscotland's director of high performance Mike Whittingham hopes Laura Muir will change her mind about skipping the 2018 Commonwealth Games.
Muir has said her veterinary medicine exams will mean she will not make it to Australia's Gold Coast.
The 24-year-old finished fourth in the 1500m and sixth in the 5,000m at the World Championships in London.
"We hope to sit down with her and her coach to see if we can persuade her to run," Whittingham told BBC Scotland.
"We are always mindful of people's studies and would do all we can to accommodate her.
"She isn't competing because obviously she's got to put her studies first, but we are regularly in contact with her and so are Scottish Athletics.
"There may be an outside chance she just looks at the programme and thinks, 'well, I didn't win a medal in Rio and was agonisingly close in London', maybe she'll just look at the Gold Coast 1500m and, who knows, we might be able to persuade her to have a fleeting visit."
Muir aims to complete the final year of her studies, with her exams in May. Next year's Commonwealth Games run from 4-15 April.
"We're not going to put pressure on her, because obviously her studies are important, and we believe in supporting an education alongside an athletics career, because it's really important under our duty of care for our athletes," added Whittingham.
"But having said that, I think Laura would like to win a medal, she hasn't as yet won a medal on the world stage, like World Championships and Olympics, and if you look at that pecking order, European and Commonwealth would fit within that global stage.
"So, there's an outside chance she might sit down with her coach and look at the 1500m."
Whittingham's comments came as it was announced that 65 Scottish athletes "with the potential to make the podium" at the 2018 Commonwealth Games or the 2018 Olympic Winter Games in South Korea have been handed individual sportscotland Athlete Personal Awards (SAPAs).
The £312,250 will go to athletes across 16 sports, with beneficiaries including Callum Hawkins in athletics, Kirsty Gilmour in badminton, and boxers Sean Lazzerini, Lee McGregor and Aqeel Ahmed.