Scottish athletics on a high after World Championships

By Heather Dewar
BBC Scotland
Last updated on .From the section Athletics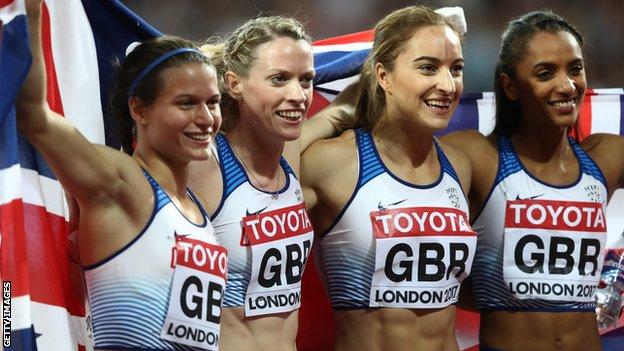 The performances by Scottish athletes at the World Championships in London bodes well for next year's Commonwealth Games, claims Mark Munro, Scottish Athletics' chief executive.
Eilidh Doyle and Zoey Clark were part of the Great Britain quartet that won silver in the women's 4x400m relay, while Laura Muir and Callum Hawkins just missed a place on the podium.
"Last time at the Games we had four medals," Munro told BBC Scotland.
"We want to exceed that."
There were 16 Scots in the Great Britain team at the World Championships, nine more than the country's previous best. The medals won by Doyle and Clark added to those earned by fellow Scots Liz McColgan, Dougie Walker, Lee McConnell and Kirsten McAslan in previous World Championships.
"It was a good week overall, a good learning curve for a number of our athletes," added Munro, who pointed out that in addition to the silver medallists and the fourth-place finishers, Muir finished sixth in the 5,000m, Eilidh Doyle (400m hurdles), Andrew Butchart (5,000m) and Lynsey Sharp (800m) were eighth in their events, and Eilish McColgan was 10th in the final of the 5,000m.
"For a small nation like Scotland, it is certainly moving in the right direction. It seems like it's our time in the sun but our job is to make sure that continues for the next decade," he said.
"If I look back to 2012, Scotland had five athletes that qualified for the Olympic team in London. None of them made finals.
"Scottish Athletics will continue to work with British Athletics to make sure that we have the best chances for athletes to keep progressing to World Championship teams and Olympic Games and deliver on that stage."
Scotland will be without Muir at the Gold Coast in April, but Munro said that, while he found it "disappointing", his organisation "can't blame" Muir for choosing to focus on finishing her veterinary medicine course at the expense of representing Scotland.
"She's been a fantastic role model for Scottish and UK athletics. The timing is unfortunate, it just doesn't work for Laura at all," he said, before pointing to other medal prospects in Australia.
"We've also got the para athletes. They had a wonderful IPC World Championships a couple of weeks ago, picking up six medals from four athletes, so it's looking good for the Gold Coast."
Doyle is also upbeat about how Scotland might fare at the Commonwealth Games, and cites her relay team-mate Clark's rise in the sport.
"Zoey started this season having not made any major championship team," she explained.
"She won the British Championships, she came to the World Championships, got into the semi-finals in her individual event and is now going away a world silver medallist in her first global champs.
"You just look at how far she has stepped up in one season. That has a domino effect. A lot of the athletes she trains with will get a boost from that.
"I feel that's what happened after Glasgow 2014; they saw what athletes they knew could achieve.
"I think that's why we've had this surge in Scotland athletics and long may it continue.
"The attitude has completely changed for the Scottish athletes. They aren't just happy to make the team.
"This is the strongest it's been since I've been involved. Hopefully we can come away with a lot of medals."