World Championships: Robert Heffernan set to retire after eighth place in London
Last updated on .From the section Athletics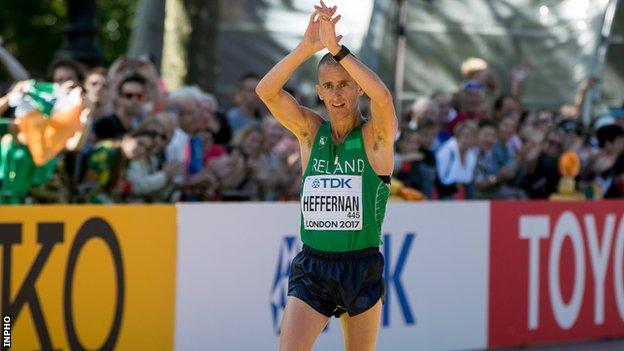 Ireland's 2013 gold medallist Robert Heffernan says he is likely to retire after finishing eighth in the 50km walk at the World Championships in London.
Heffernan's time of three hours, 44 minutes and 41 seconds left him 11 minutes and 29 seconds behind dominant winner, France's Yohann Diniz.
"I think I ran out of road. I wanted to go out on a positive," said the 39-year-old Corkman.
Heffernan was last year presented with an Olympic bronze from London 2012.
That followed the disqualification of Russian Sergey Kirdyapkin who crossed the line first in the 50km event in 2012 before being handed a doping ban four years later.
Heffernan also has a European Championship 20km bronze from 2010 which he received in 2014 after the retrospective disqualification of another Russian competitor.
"It's hard to evaluate everything now but I'm happy I finished on a positive note," Heffernan told RTE Sport.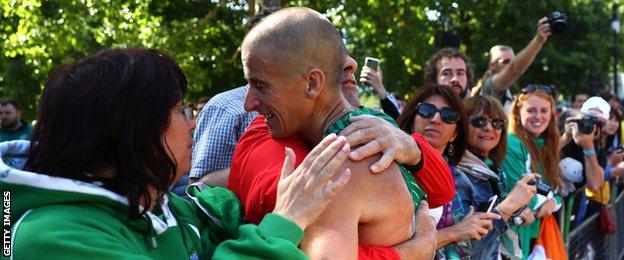 "I always said when I come off the top and I'm not challenging for medals, I know it's still eighth in the world, but I think it's time for me to help the new generation now and go out at the top and put my experience back there.
"I've done enough in the sport. I think my career has gone on so long because I've got such great support at home from everyone in Ireland. It's given me such a buzz.
"The body just lost that desire to be massively competitive and to massively hurt."
World record holder Diniz was over eight minutes clear of Japan's silver medallist Hirooki Arai in Sunday's race.
Arai's team-mate Kai Kobayashi was a further two seconds back in third.
Heffernan moved up from 14th place at 40km to close his career with another top-10 performance in a major championship.
The 2013 world champion finished sixth at last year's Rio Olympics.
Heffernan's Irish team-mate Alex Wright was disqualified for lifting in Sunday's 20km final.
Wright had been going well early on but then had his shoe dislodged at 4km when someone stood on his heel and he struggled thereafter.
"It had been a great season overall and it's very disappointing," said Wright.