World Championships 2017: McColgan aims to 'deliver' in 5,000m final
Last updated on .From the section Athletics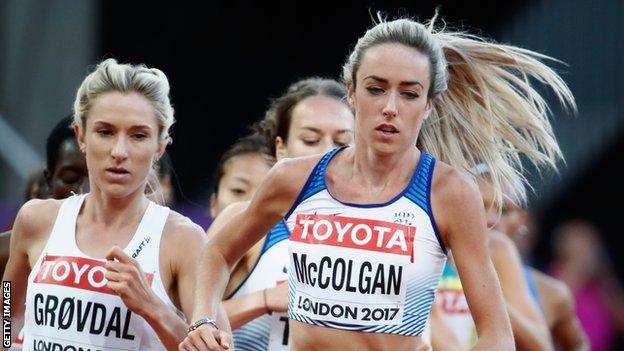 Eilish McColgan will aim to deliver on her "gameplan" for the 5,000m final at the World Championships, according to mother and coach Liz.
McColgan and fellow Scot Laura Muir are gearing up for Sunday's final - in the last day of competition in London.
"Eilish knows the gameplan and it's up to her to deliver it now," McColgan told the BBC's Sportsweek.
"As a coach and the type of coach I am, once we're in the final, there's nothing more I can do."
The Scots face daunting competition in the final, which gets under way at 19:35 BST.
Kenya's Hellen Obiri is fastest in the world this year by more than seven seconds and was also fastest in qualifying.
'Rip the race apart'
The final will also feature the reigning champion Almaz Ayana, the Ethiopian who won the 10,000m title by more than 45 seconds.
McColgan hopes she has given daughter Eilish, who had funding concerns leading up to the championships, the confidence to execute the race she wants to run.
"But it's a difficult situation because there's a reality check here: you've got two amazing African runners that she won't be anywhere near who will rip the race apart; it's how she will focus and deal with her own race," she said.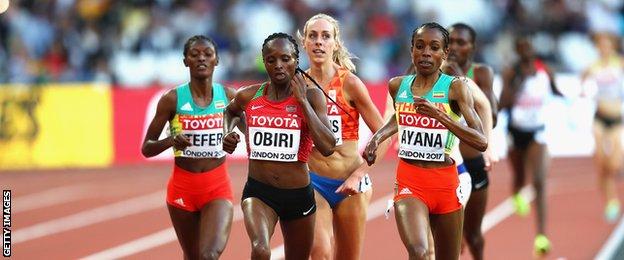 "She's had a rollercoaster ride to get there, but I think that a lot of athletes can tell that story.
"Eilish has shown great determination - I've known since she was 12 that she's a great distance runner.
"There's a lot of talent out there that doesn't make it; it's about how you support them through.
"Eilish has come through a very difficult last four years, she's kept her head and still believed. She's absolutely loving her running and you see that in her now: she's got a belief and an enjoyment in her running that's taken her to the next level.
"In the next couple of years, we've still got to work on it and I can see her running pretty quickly over 10k."