World Championships 2017: Neil Black praises Scottish members of GB Team

By Kheredine Idessane
BBC Scotland
Last updated on .From the section Athletics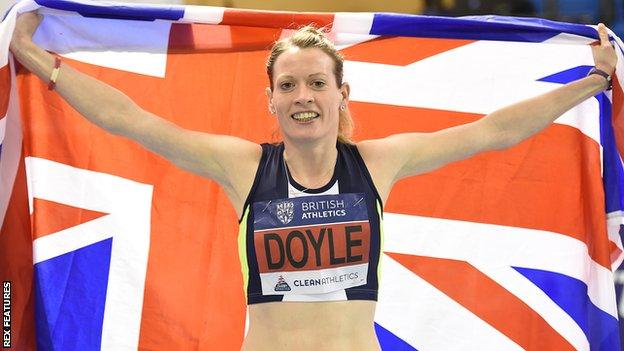 UK Athletics' performance director Neil Black says the 16-strong Scottish contingent in the World Championships squad will make "a massive contribution to the team".
A record number of Scottish athletes have been selected for London 2017, which starts on Friday.
Black believes "there's something special evolving" in Scotland and UK athletics must learn from that.
"We embrace it and we're trying to understand [it] and we'll push on that until we work it out," Black said.
"I speak to people in the Scottish Institute of Sport and they think it's something to do with what they've done.
"Scottish Athletics think it's something to do with what they've done. British athletics: it's something to do with what they've done.
"And the guy on the corner street, too. Whatever the combination of circumstances, it's absolutely brilliant."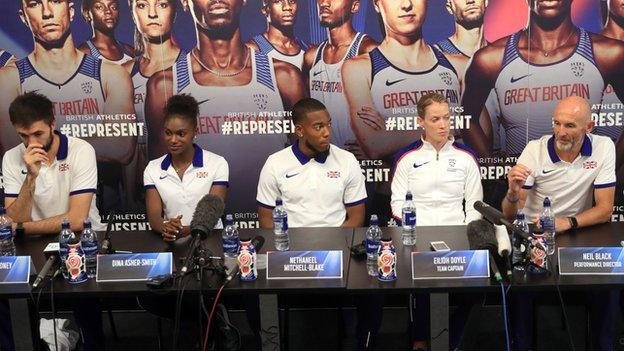 Several of the Scottish athletes are medal contenders, including Laura Muir and Andrew Butchart - who will race against Sir Mo Farah in the 5,000m, while Eilidh Doyle was voted by the squad to be team captain.
"Eilidh is slightly modest. Her captain's speech was incredible," says Black.
"A number of athletes, whether they were Scottish or wherever they live or train, walked out of that room feeling hugely proud and really motivated.
"The passion and real feeling that Eilidh naturally put into it were great. "
The Commonwealth silver medallist, who will compete in the 400m hurdles at her fifth World Championships, says it's "incredible" 16 Scots are in the British team.
Scotland's previous best total of athletes at the worlds was seven, achieved in 1983 and 2015.
Middle-distance runner Muir is leading the way, having set five British and two European records in the past year. She will go in the 1500m and the 5,000m.
Chris O'Hare, who runs in the 1500m, is another Scot to watch, following a great season that included victory at the British Team trials and the Anniversary Games.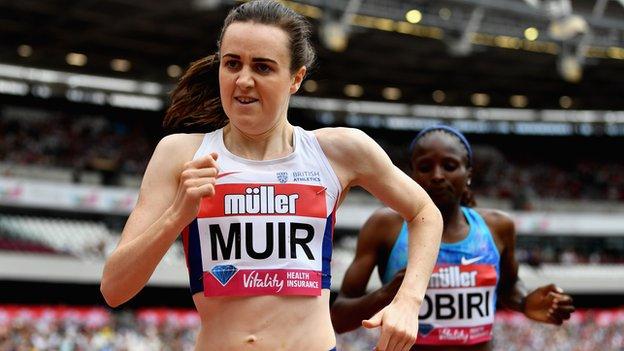 Doyle remembers her first world championships, when the only other Scot in the team was Lee McConnell.
The team captain says she's "hugely proud" of the fact so many of her compatriots have not only made the team, but, in some cases, will be challenging for medals and competing to make finals.
"The special thing about being team captain is that it was voted for by the other members of the team, so that it was such a huge honour anyway but to know that your teammates have voted for you and chosen you made it extra-special for me," she added.
"Obviously, I'm very proud of all the Scots who've made the team. It just shows how far we've come.
"And they're here as well-established athletes, athletes that are going to be looking to get on podiums.
"As for my captain's speech? Yeah, I think it went well. I just drew on the fact that we're very lucky in this situation in that we've got a home World Championships.
"So it's really just the importance of drawing on that home support and thriving on the fact that we're back at the Olympic Stadium.
"I'm getting a second chance to go out there and compete and it's just going to be such an amazing atmosphere out there."