Cameron Chalmers: Guernsey sprinter hopes for three Island Games gold medals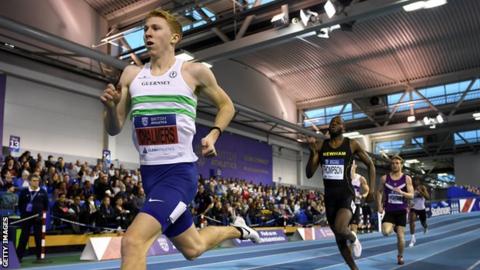 Guernsey sprinter Cameron Chalmers says he hopes to win three gold medals at this month's Island Games in Gotland.
The 20-year-old will look to defend his 400m individual and relay titles from two years ago, and also seems set to compete in the 4x100m relay.
"Everything I run in I want to win gold," he told BBC Radio Guernsey.
"There could potentially be some really fast Cayman Island sprinters out there, but you don't go into a race aiming for silver."
Chalmers is the British university 400m champion and narrowly missed out on a place in the Under-20 World Championships final last year.
He ran 45.71 in May to break the Guernsey 400m record and has his sights set on breaking the Island Games record, held by fellow Sarnian Dale Garland who clocked 46.70 in 2007.
"Obviously I want to win it, and I want to break the Island Games record for the 400m," he added.
"It'd be nice to win the 4x400m and the 4x100m as well, and run a Guernsey record for the relays.
"If we have the right team out there I definitely think it's doable."