Kerry O'Flaherty edges Ciara Mageean to win silver in Dublin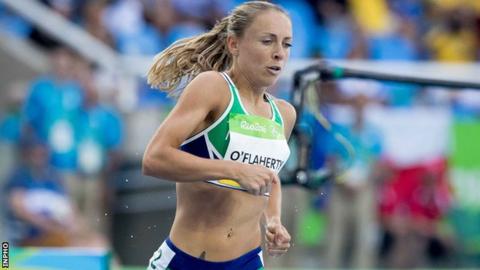 Kerry O'Flaherty pipped fellow Co Down athlete Ciara Mageean for silver at the Irish Cross Country Championships.
Shona Heaslip powered to victory in Dublin while O'Flaherty sprinted past Mageean on the line for second place.
Holywood's Paul Pollock showed the effects of last week's Delhi half marathon as he finished in fifth place, never contesting the medals.
The race was won by Mark Christie with defending champion Mick Clohisey second and Mark Hanrahan third.
Fionnuala McCormack's decision to run in the Alcobendas cross country in Spain allowed a real turn up for the books as Kerry athlete Heaslip secured the win.
It looked as if it would be a battle between Newcastle steeplechaser O'Flaherty and Portaferry's European 1500 metre silver medallist Mageean when the bell sounded.
Decisive move by Heaslip
However, 22-year-old Heaslip made a move for home on the final lap of the 8k course that neither Mageean nor O'Flaherty could respond to, with O'Flaherty going past Mageean in the final strides.
"I enter a race to try and win" explained Mageean. "But I'm up here with well experienced cross country runners.
"To come away with a medal and fulfil my aim of making the European cross country team makes it a good day."
"I'll aim to go and show my form in the European cross country."
Mageean should be confirmed with O'Flaherty on the Irish team for the Euro Cross Country Championship on 11 December on Monday.
"The plan was to try and make the podium," said O'Flaherty.
"Shona and Ciara just got me on the hill but I had enough to get Ciara on the home straight."